Growing up, 1st Lt. Melissa Hale was certain she was going to be an international missionary. She accepted Christ at age 12 and began preaching at age 15. By 19, she was serving as associate pastor of a church plant. But in college, she realized God was calling her to join the United States Air Force as a chaplain. Today, she serves the approximately 1,800 airmen of the 911 AW/HC at the Pittsburgh Air Reserve Station.
"Even here in the States the Lord has opened up windows to make global impact," Melissa said. "When you think of the military, I would think of campaigns, a lot of other things and Americans, but it's been really interesting to see how many encounters I've had with naturalized citizens."
Melissa found her calling by accident. In college, she spent one summer in the Army ROTC as a cadet. As Melissa formed relationships, the other female cadets sought her out for advice and spiritual leadership. Melissa's calling solidified when one of her fellow cadets called her name during swim training. During this drill, cadets are required to dive into 10 feet of water in full gear, remove all gear in the water and wade to shore. But this woman was afraid of heights.
"This young lady was scary, and always in fights, but I learned that day that she was afraid of heights, the dark and water," Melissa said. "On the diving board, she called my name, and I was encouraging her to make the jump."
At that point, Melissa felt that God was inviting her to take her own leap of faith and serve those in the armed forces. She started the Air Force Chaplain Candidacy program in 2015. The program is similar to an internship and is ideal for seminary and other students to evaluate their compatibility as an Air Force Chaplain. Melissa spent 35 days each summer with the Air Force to complete her training and was commissioned as a chaplain in 2019. Each month she reports for duty at her base in Pittsburg, Pa., but she is always available to the airmen.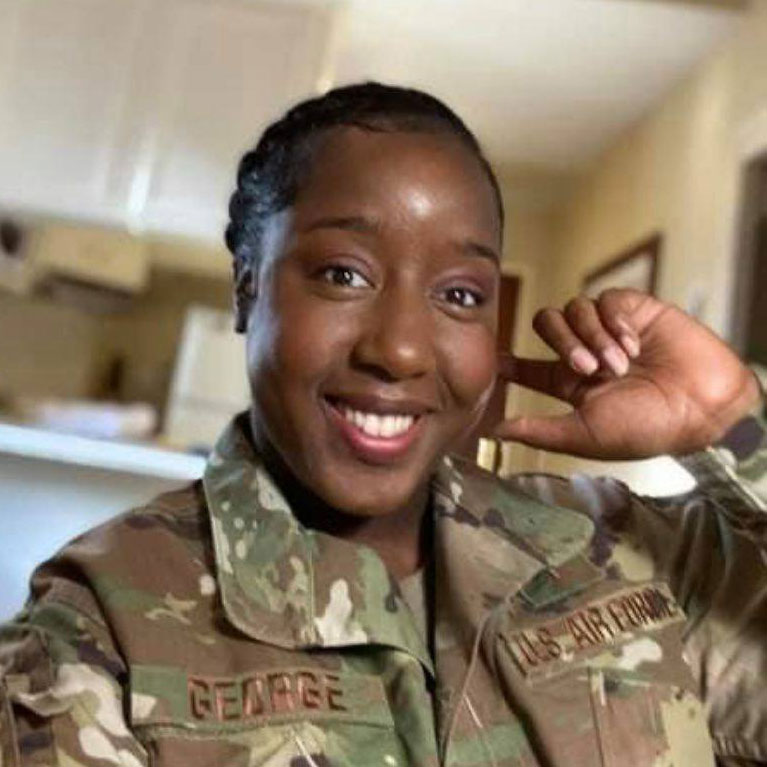 Each day, she has conversations with many people, but as she recounts these interactions, one stands out. As she was about to leave for the day, a young woman in development and training (DTF-Flight) prior to going to basic training stopped by her office for prayer. As they talked, Melissa asked her religious orientation. The woman replied, "I'm not really religious, but I feel like you can connect to that for me." Melissa believes that her role is to help people see her relationship with God and find hope that they, too, can have a relationship.
"We are to be visible reminders of the holy, which means that we are to be everyone's pastor, even people who do not believe or have a faith orientation," she said. "We are to advocate for their spiritual rights—for their right to worship or not to worship."
Although the Air Force is a pluralistic setting, with people of all or no faith, Melissa preaches the gospel daily. Not only does she serve as pastor, confidante and friend to the airmen, she also gives spiritual guidance to leadership. Melissa believes that preaching the gospel is a matter of time and space.
For example, if she is preaching at a non-mandatory service, she can preach from her theological inclinations. If she's speaking at a required event, she has to speak from an inclusive point of view.
"I truly believe that in the space that I'm offering for people to think beyond what is temporal is the ultimate preaching of the gospel," she said. "A lot of people in the Air Force are 18-25 and have had no chance to think about the intangibles. This gives them the opportunity to understand first and foremost that there is a benevolent divinity. Opening their minds to that idea is planting the seed of the Gospel."
Melissa graduated from Asbury Seminary with a M.Div. in 2017 and is currently pursuing a Doctor of Ministry degree in the spiritual direction cohort. She, her husband William and three boys, Logan, Kaleb, and Malcolm live in Richmond, Ky. As of September 2020, she is an Itinerant Deacon in the African Methodist Episcopal Church. She also serves on the ministerial staff of Embry Chapel AME in Elizabethtown, Ky., and alongside her husband at Saint Paul AME in Versailles, Ky.
---
Prepare for the Call
Learn more about how Asbury Seminary can help prepare you for your call. Fill out the form below to get started!
Loading...