Most pastors don't have a criminal record or past addictions to drugs and alcohol. Yet, Michael Beck, Pastor of Wildwood United Methodist Church (UMC) in Ocala, Fla., struggled with all of those things. However, God met him in his brokenness and transformed his life into a message of hope, healing and ministry.
Now, he uses that brokenness to transform his congregation and community for Christ. At the time of Michael's appointment five years ago, Wildwood UMC was declining. Michael sought to breathe new life into the service by starting a ministry to reach the addiction recovery community. Because of his past, others in the recovery community feel welcome in his congregation.
He and his congregation started engaging the community with revitalization ministries, meeting people where they are to share the Gospel and not wait for them to walk through the church doors.
"It's more important to be the church and reach people for Jesus and offer them the grace of God where they are," Michael Beck, Lead Pastor of Wildwood UMC, said. "They won't come to us, so we have to go to them."
To do that effectively, he and his church have started several ministries as part of the Fresh Expressions Movement. These include Burritos and Bibles, a Bible study that meets weekly at Moe's Southwest Grill; addiction recovery programs; jail ministries; prayer walks for racial reconciliation, and Tattoo Parlor Church.
Each month, Wildwood UMC holds a service in Fat Kats Artistry, a tattoo shop, in Ocala, Fla., to share the Gospel and Eucharist with customers and regulars. Michael leads a Bible study in the front, but at least one person is in the back getting some ink. Tattoo Parlor Church has two rules of engagement. If you get a tattoo, it must be a faith-based tattoo, such as the cross-and-flame logo of the United Methodist Church, and you should bring a friend with you.
For Michael and those who attend, these tattoos are an outward expression of an inward grace.
"It's a tool that people will ask you about and you can tell them about Jesus," Michael said.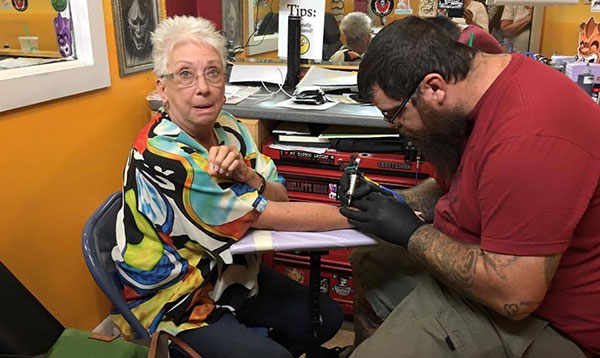 Michael has had many opportunities to do just that as a result of the cross and flame on his arm. One of the artists at Fat Katz hadn't been to church since he was 12 years old. At a recent service, he approached Michael with questions about communion and the Christian faith. At the end of Michael's extensive explanation, the artist said, "I'm in. I need Jesus in my life."
This artist is just one of many whose lives have been transformed by the love of Christ. Wildwood UMC has grown from 30 people to 200 people, ranging in age from 20-60.
"Growing at Wildwood was kind of like a church plant in the middle of an older congregation," Michael said. "We have a mixed-economy church and a very unique context."
In light of the recent tragedies sweeping the nation, Michael and his church have formed a coalition with 12 other churches to promote racial reconciliation. Sunday, July 24, Sheila Raye Charles, daughter of Ray Charles; Michael Steptoe and other community leaders join together to promote love and peace through prayer. The multiracial, interfaith march begins at Wildwood City Hall and travels to Jackson Street, the center of crime in the city.
"We can't simply sit back and wait for this to get better," Michael said in an interview first published in the Daily Sun in Lady Lake, Fla. "The church has become largely ineffective because of our passive stance on most issues. That was not the way of Jesus. He prayed, but then he rolled up his sleeves and got to work."
Michael recently completed his master of divinity degree at Asbury Seminary's Florida Dunnam Campus. In addition to his role as lead pastor at Wildwood, he has also been appointed as lead pastor of Oxford UMC and is the South Atlantic Coordinator of Fresh Expressions US and the North Central District Cultivator of Fresh Expressions. Fresh Expressions is an international movement of missionary disciples cultivating new kinds of church alongside existing congregations to more effectively engage the growing post-Christian society.
He lives in Wildwood, Fla., with his wife, Jill, and their 8 children.
---
Prepare for the Call
Learn more about how Asbury Seminary can help prepare you for your call. Fill out the form below to get started!
Loading...