Dr. Christine Pohl believes the two main components of hospitality are food and conversation. On the first day of an intensive class, she invites her students to break bread together as the course begins. . For the past 29 years her classes have modeled the ancient tradition of hospitality and equipped her students to lead faithful communities in which everyone is valued.
"Hospitality is making room for people in a place where, unless you invited them, they wouldn't feel free to come," Dr. Pohl said.
In ancient times, hospitality served as a vehicle for sharing the Gospel. It was crucial in addressing the Gentile and Jew distinctions because all were invited and welcomed to God's table by Jesus. However, the tradition of hospitality has often been overlooked in the last 400 years.
"Part of the challenge is recovering a meaningful understanding of hospitality," Dr. Pohl said. "In the ancient world, hospitality was seen as a pillar of morality. In those days there weren't restaurants or hotels. Everyone depended on somebody's hospitality."
Throughout the Bible, Dr. Pohl notes that hospitality is seen as central to faithfulness, specifically in the accounts of Abraham, Sarah and the angels; Elijah and the widow of Zarephath; Elisha and the Shunammite woman; and finally in the person of Jesus and the practice of the early church.
In the New Testament, readers encounter Jesus as both guest and host. Not only does He feed people and converse with those on the margins of society,, but he is also willing to be their guest.
"In the Gospel of John, Jesus describes himself as the bread," she said. "So he is guest, host, stranger and meal."
Dr. Pohl first saw hospitality modeled by her grandmother, who was orphaned at age 13. Dr. Pohl's grandma lived by the motto that "no one should ever be alone," and taught Dr. Pohl to do the same.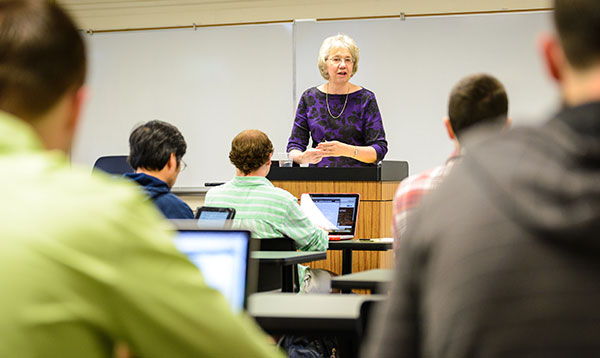 "There was simply always room for one more person," Dr. Pohl said. "It wasn't that exceptional, but it was exceptional to me to see how easy [hospitality] seemed to her."
Dr. Pohl's grandma chided her family when they reminded her that their neighbor always seemed to have plenty of food. Her frustration obvious, she explained: "It's not just about the food, you know. It's about knowing someone cares."
"When hospitality involves more than entertaining family and friends, when it crosses social boundaries and builds community, when it meets significant human needs and reflects divine generosity, we often find hosts who see themselves in some way as marginal to the larger society," Dr. Pohl said in her book Making Room.
For Dr. Pohl, hospitality isn't just one more task on a long to-do list. She incorporates it into every day life.
"One of the fundamentals of hospitality is recognizing that the guest brings gifts, so I think that teachers express hospitality when they invite students to speak and to discover what they have to offer," she said.
Dr. Pohl worked in various ministries for 11 years before attending seminary. She owned a Christian bookstore for six years and later worked in advocacy and refugee resettlement. She currently serves as an occasional advisor for homeless shelters and refugee programs. She has also helped plant four churches and plans to retire from teaching at the end of the spring semester.
Listen to Dr. Christine Pohl as she shares on Recovering Hospitality and Making Room on the Thrive with Asbury Seminary Podcast!
---
Prepare for the Call
Learn more about how Asbury Seminary can help prepare you for your call. Fill out the form below to get started!
Loading...