As a witness of domestic violence and former victim of domestic and partner violence, Teresa Kutcher knows what it's like to experience emotional and physical trauma. But instead of letting that defeat her, she uses her own brokenness to help other victims of abuse find hope and healing. For the past nine years, she's served as chaplain for the Kentucky United Methodist Children's Home, working with 12-17 year olds in the Residential Treatment Program in Nicholasville, Ky. She treats her kids, as she calls them, like her own family.
"I know what it's like to feel like you're unlovable and when you've experienced somebody ripping apart the very person that you are by their words and actions, it's easy to look in the mirror and think, 'I'm ugly. I'm fat. I'm unlovable. Multiplied by 100,'" Teresa said. "I don't want these kids to see themselves that way."
The number of child abuse victims removed from their homes in Kentucky is three times higher than the national average, and in 2018 the Children's Home served 800 abused, neglected or abandoned children. The Nicholasville residential treatment program provides a home for up to 22 children at a time for a span of three to eight months. During that time Teresa seeks to give each child a concept of love and healthy relationships in order to help them understand God's love.
"God has graciously given me the ability to see them as He does," Teresa said. "That's why I keep going back because I can see what's inside, what God sees. No one else will ever see that if there's no one to speak to them."
On Wednesdays, she and a few of the children plan and cook the evening meal. Often the kids Teresa works with in the kitchen aren't interested in church, but as she gets to know them, conversations start. After eating, she leads the kids in a youth group activity. On Sunday, Teresa and the kids attend church, spend time together in the afternoon, and participate in an evening Bible study. She never forces relationships, but is always willing to show up and simply be there.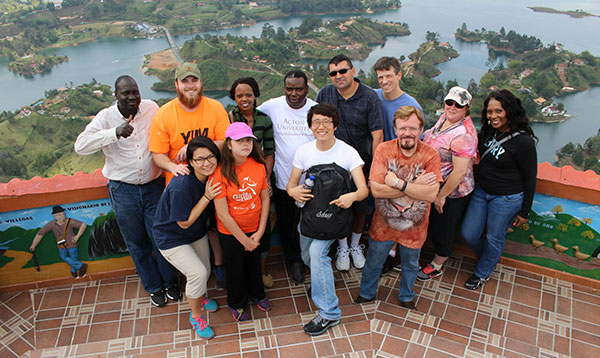 "If they invite me to something on a day that I'm not typically there, I'll re-arrange my whole schedule to be there," she said. "Their families don't come, and that's a way that I can show them love."
It's not often that she sees the fruit of her labor. However, one child she encountered in her first batch of kids surprised her. This girl rarely talked or interacted with Teresa, but before she left for her next placement, she gave Teresa a clay figure that Teresa keeps on her nightstand as a reminder to pray for her.
"That's what keeps me going back is knowing that someday God is going to get a hold of their hearts," she said. "It's not an if, it's a when."
Teresa recently retired from her service at the children's home, but continues to serve as Executive Assistant to the Provost at Asbury Seminary. She holds a B.A. in Business, an M.A. in Education, and an M.Div. She is currently pursuing an M.A. in Marriage and Family Counseling at Asbury Seminary.
---
Prepare for the Call
Learn more about how Asbury Seminary can help prepare you for your call. Fill out the form below to get started!
Loading...