A.J. Robinson raps with a refreshing perspective that resonates with listeners. Using a keyboard and recording equipment left to him by his uncle, A.J. started writing lyrics and making beats at 15. Now he uses his love for rap music as a way to illustrate the gospel to help people understand what Jesus is all about.
Using an old iPhone and the GarageBand App, A.J. records songs filled with emotion and truth. A.J. believes that worship takes many forms and isn't always found with a choir and a sermon.
"Maybe music is the only glimpse of church that they ever get to see," he said. "It's important to be adaptable and flexible in the way we communicate the word of God."
Whether talking about his grandmother's stroke in "Whenever Life Hits," or something he's learning in his journey with Christ, as in "New Meaning," A.J.'s lyrics are transparent.
One of his most recent songs "Fractured Lens," written during finals week his senior year of college, reflects on his journey from the guilt and shame he experienced when he was "impulsively doing things just to benefit his own sake," to the freedom he has experienced since meeting Jesus at age 20 and being baptized.
"Wow! I'm clean now," he said. "I had come before the Lord saying, 'I don't have the cleanest record, but, God, I'm willing to trust you. [I felt like] I should still feel a sense of guilt like I'm a horrible person, but that was literally washed away clean."
In his lyrics he talks about being choked by insecurities, self-pity and living a life without purpose. But his words give hope when he says:
"Because I'm broken inside, as much as I try to hide, I can't deny these burdens with tears swelling up in my eyes. / Yes, I cry about the negative things; I should die. / But He gave me a second chance at reliving my life."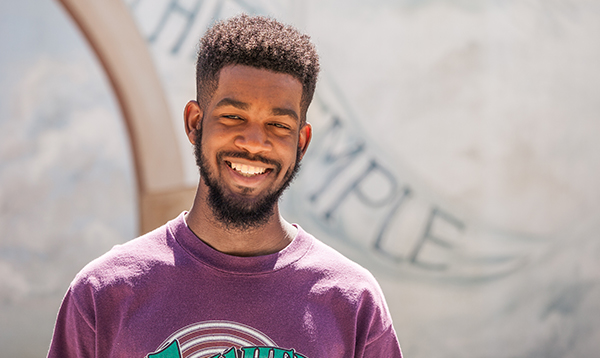 After meeting Jesus, A.J. felt free to be himself without worrying about maintaining a certain image or even worrying about making songs that people would listen to. Before meeting Christ, A.J. explained that he constantly lived by the opinions of others.
"[Before] I could die by their rejection, but now I know where my identity lies, and it doesn't lie in the hands of other people," he said.
Whether playing in bars or for his friends, audiences identify with A.J.'s lyrics. On April 24, 2018, A.J. was the first person in Asbury Seminary's history to rap in McKenna Chapel. One night after playing a set at Al's bar in Lexington, Ky., a woman started a conversation with him, telling him his music was preaching.
"Worship isn't limited to one form and neither is preaching," A.J. said. "It can be a form of preaching because as Christians we're called to meet people where they are. If rap music will reach people, I would love to be in that position."
A.J. has dreamed of being a professional rapper since high school. Now he has a unique opportunity to use rap to draw attention to God. In April, A.J. traveled to Southern California to compete in the House of Vans Music Showcase, a series of sessions for unsigned artists. One artist is selected to open at a headline show at the House of Vans locations in either Chicago or Brooklyn.
Although A.J. didn't win the competition, the exposure led to greater opportunities. He has shows scheduled throughout the fall and has already played at Campbellsville University, Western Kentucky University and Lindsey Wilson College.
---
Prepare for the Call
Learn more about how Asbury Seminary can help prepare you for your call. Fill out the form below to get started!
Loading...