Last updated: September 25, 2019
Anorexia has the highest mortality rate of any mental illness. Yet, complete recovery is possible. Adena Bowen has guided many girls and woman to live balanced, full, whole and productive lives. Adena's title is primary health therapist at Remuda Ranch, a residential treatment center, but that doesn't adequately define her job. She journeys with girls, as young as eight, and women, up to middle age, teaching them how to live again.
Adena meets twice weekly with her five patients, as well as leads process group therapy sessions and community meetings. She blends cognitive behavioral therapy, reality therapy and family systems theory to help these girls and women experience a new lifestyle.
"I give them permission to feel whatever it is they're feeling," Adena said. "I help them face the things they're trying to avoid and tap into the issues that it brings up. I speak truth over them by pointing out ways that they're seeing things that's not productive and help them shift their thinking about themselves, their lives and their families."
Twenty million women in the U.S. battle anorexia, bulimia or another type of eating disorder. These disorders often join forces with depression, addiction, anxiety or other mood disorders. Therefore, not only are women with eating disorders at risk of metabolic collapse and starvation, but also are more likely to commit suicide.
Each day, Adena helps a few of these women begin the journey to hope and healing. She develops a timeline with her patients from birth to their current age. For each year, she asks them questions about their family, education, grades, friendships, dating history and significant life events.
Eating disorders often develop from areas of trauma and associated pain, family conflict, enmeshment, abuse, neglect or medical complications. Talking through the patient's life helps to pinpoint the trigger and how the eating disorder developed and progressed.
Adena then helps her patients figure out their identity apart from food. She finds that many of her patients see their lives as either black or white. Through conversations, as well as writing and meditation exercises, Adena helps her patients find peace with the gray areas.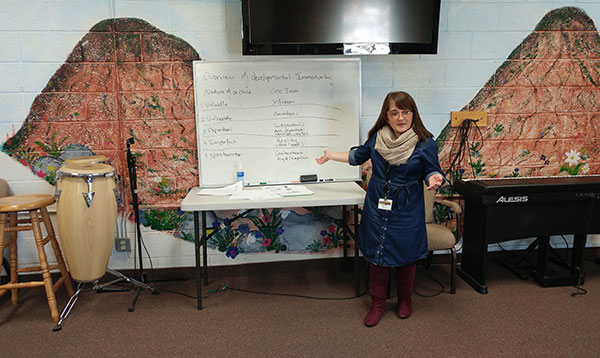 "I help them begin to acknowledge and express the whole range of emotions—pain, fear, love, joy and anger," Adena said. "I help them come into true self-esteem and work through body image issues and figure out who they are apart from the eating disorder."
Patients usually reside at Remuda Ranch for 45-60 days during their journey to wholeness. Because eating disorders are the result of habitual behavior similar to those found in addictions, such as compulsive gambling or drug use, successful treatment must train the brain to think differently.
Remuda Ranch tailors treatment plans to each woman's needs and assigns a psychiatric and primary care provider, a registered dietician, a licensed therapist, a psychologist and registered nurses. Remuda has helped more than 10,000 women replace unhealthy eating habits with nutrition and exchange fear for hope.
Adena has worked at Remuda Ranch for approximately three years, first as a behavioral health tech and now as a primary health therapist. In the future, she would like to expand her scope of practice to include work with those struggling with self-esteem and identity.
---
Prepare for the Call
Learn more about how Asbury Seminary can help prepare you for your call. Fill out the form below to get started!
Loading...