For Andi Wallace, working as an FBI special agent was more than investigations, stakeouts and long hours. It was a place where her faith and her work intersected to serve justice and provide support to her colleagues. While working in the FBI, Andi earned an M.Div. from Asbury Seminary and used what she learned in her classes to participate in the Bureau's Employee Assistance Program (EAP). There, she offered a listening ear to her peers experiencing personal or work-related problems.
"Wherever God places me, I try to do ministry," she said. "A lot of times it's just ministry of presence, sharing information, or praying for people, sharing God's love with them and trying to be the light of Christ to people wherever I am."
Although her dad was a game warden, growing up, Andi never dreamed of pursuing a career in law enforcement, let alone the FBI. With a bachelor's and graduate degree in journalism, Andi worked as the managing editor for the Mississippi Business Journal until a mutual friend who was also an agent suggested she join the Bureau in 1995. She applied and halfway through the two-year application process, she was preparing for her face-to-face interview. As she prayed for confirmation of her next right step, she felt an incredible peace about continuing the process.
In August of 1997 she left for the FBI Academy at Quantico, Virginia. After completing what was then a 16-week course, Andi drew her first assignment to El Paso, Texas, FBI Division, where she spent 20 years as a special agent investigating white collar crime, healthcare fraud, human trafficking, oil field theft and other criminal investigations. Three of those years she spent in the Midland, Texas, Resident Agency.
About a decade into her career, she was on track to become an FBI profiler to work in the Behavioral Analysis Unit and use criminal psychology and crime-solving experience to lead investigations. Although her time in the bureau had prepared her, she failed the leadership test.
"My boss at the time, who was the head of the division, was like, 'Something's not right, because these are all things that you do very well in, but you failed on,' Andi said. "That closed that door to doing the profiling, because that was a supervisor position, and I had to pass this test to move to the next step."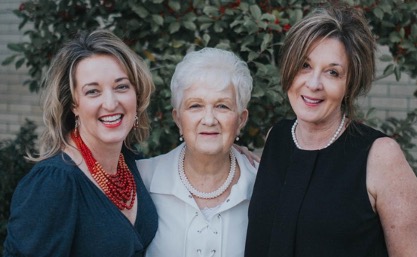 Around the same time, Andi started feeling a call to ministry. At her performance review, Andi shared with her boss, who was also a Christian, that she might need to quit the Bureau. Although unheard of at the time, her boss offered her a leave of absence for a year, which allowed her to move to Wilmore in 2010 and take 29 hours toward her M.Div. degree.
"It was during that time that I realized that my call was not to leave the Bureau, at least not at that point," she said. "I went back home and said, 'Okay, the Bureau is my mission field.' It's really wherever we are, so that was my mission field."
Over the next 10 years, Andi worked full-time and took one course a semester to graduate in 2020. During that decade, Andi found ways to share her faith appropriately by being an employee assistance program peer. In law enforcement, agents and officers experience a lot of situations that are challenging to express or understand, making it difficult to be vulnerable.
"As a fellow agent, I had opportunities to walk alongside people who were going through divorces, or financial problems, or life, like everybody else does," she said. "And I was able, through EAP, to be a listening ear and to do ministry to those folks. That was just where God had put me and where I was able to minister at the time."
Andi served in the FBI for 24 years before retiring after her last assignment in Kentucky. Now she and her husband live in Northern Kentucky where she pastors a rural church in Cynthiana. Andi also serves as a development officer for Asbury Seminary.
---
Prepare for the Call
Learn more about how Asbury Seminary can help prepare you for your call. Fill out the form below to get started!
Loading...