Last updated: May 12, 2023
Brandon Beals began his church planting adventure as a result of his theoretical thesis, "If I Were to Plant a Church, Here's How I Would Do It." But God called him to put his theory into practice. After a season of wrestling with God, Brandon answered the call. Today, he pastors Canyon Creek Church in Mill Creek, Wash., with seven campuses in the area and one in Costa Rica. Their mission is to be a church for seekers and the de-churched.
"The best part about being in an area where people don't go to church is the fact that I get to deal with people on a regular basis where the first time they hear the story of David and Goliath is when I tell it to them," Brandon said.
Brandon jokes that thirteen years ago, he and his church accidentally did everything that the books he's reading on church planting now tell him to do.
"The key to our growth is that we stayed on mission," Brandon said. "We refused to compromise what God had called me to and our target demographic."
From the beginning, Canyon Creek Church has had a reputation for serving the community with no strings attached.
"What made us unique is that we were missional before it was cool to be missional," he said.
Canyon Creek defined being missional as being a "missionary" in your sphere of influence, both collectively and personally. Canyon Creek realized that little existed for the families of Mill Creek to do. The church decided to host an Easter Egg hunt for the city and introduced Trunk or Treat.
Instead of promoting their church at each of these events, the church members just served. Others in the community, debated Brandon's logic of not preaching a sermon or giving an altar call, but Brandon just wanted to build relationships. These friendships would eventually lead to disciples.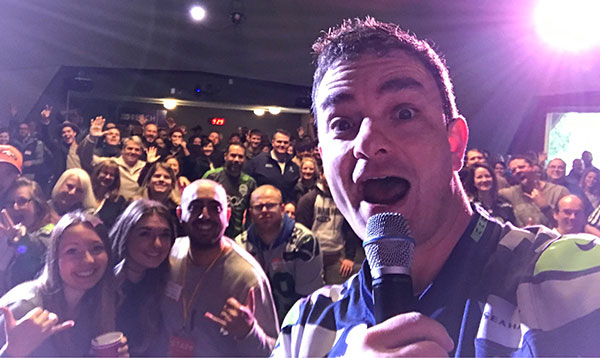 "When people in the community decided they wanted to explore faith and check out church, they've had a good experience with us already," Brandon said. "We never did those events as a method to get people to check out our church. These events were more of a way to introduce them to relationship."
Brandon lived out his challenge to the church by serving in the Mixed Martial Arts community, an area that has interested him since high school. As Brandon served, he gained national media attention and the moniker Fight Pastor. He started hosting pay-per-view UFC fights at his church. These events attracted between 200-300 people. Eventually, he became a chaplain within that community.
"This birthed out of me living missionally in my sphere of influence," Brandon said. "Canyon Creek still has a large percentage of short, tatted up, muscular guys as part of our church."
Most are past their fighting career, but they still have a place in the pews.
Ironically, Mill Creek was built around a golf course and no land was set aside for places of worship. Less than 10 percent of residents attend church. But in a city that was designed never to have a church, Canyon Creek is building the first ever church inside the city limits. All the other churches have been annexed. As a result of their heart for the community, the city is welcoming them with open arms.
"This is our legacy in this community, what we're currently doing," Brandon said.
Brandon earned his D.Min. at Asbury Seminary in 2020 as part of the Missional Community cohort. As the pastor of a large multi-site church, his time in the program helped him refocus on the simplicity of ministry.
---
Prepare for the Call
Learn more about how Asbury Seminary can help prepare you for your call. Fill out the form below to get started!
Loading...