Last updated: October 7, 2021
Dr. Brian and Chavonne Taylor planted Bethel Cincinnati Church in an area that was not always welcome to diversity.  Now the church is becoming one where it is hard to tell whether it is black or white, while seeing other ethnicities integrated, too. Their hope is to restore relationships and community in a city plagued by racial challenges.
"My pursuit of racial reconciliation came less out of a sense of the need and more out of a sense of who God's called me to be in relationship to Him," Brian said. "In any city God called me to work, I would work toward reconciliation."
Cincinnati has a long history of race riots, its first occurring in 1829, just 41 years after it was founded. Its most recent riot occurred in 2001, following the shooting of Timothy Thomas, an unarmed black teenager.
"Racism is like a beach ball that we want to keep under the water's surface, but it keeps springing up," Brian said.
Following the attack in Charlottesville, Va., in August 2017, Brian highlighted the racial diversity and friendships within his church. He asked that the lights be turned up and for individuals to look at their neighbors, to shake hands with their friends. As he looked out at the congregation, he saw people from many nations represented.
"It's one thing for people to meet together, but different to eat together," Brian said. "When that happens, you start hearing narratives that are different from your own. When you have relationships with people from different ethnicities, it makes it hard to label people one way."
Brian believes that reconciliation starts on a personal level, but then moves to transform communities.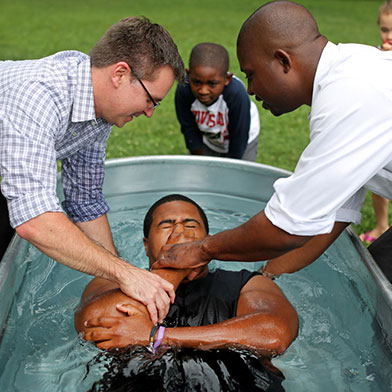 As a church staff, the team is reading a book regarding multi-ethnic conversations. As a larger group, the church works within the community to provide tutoring and mentoring programs, as well as a sports camp for under-privileged children. The church uses these avenues as opportunities to invest life skills in these kids.
"What we have been able to do is put ourselves in a position where we're rubbing shoulders and serving, tutoring and mentoring in our community," Brian said. "We're also going to have a multi-ethnic conversation on the college campuses to think through and process some of those [social justice] questions as well."
As the church approaches the four-year mark, they are exploring ways to address the systemic issues with city leaders regarding housing and education. They seek to answer the question: How can we be socially responsible as a church where God has placed us, so as not to prioritize one group over the other?
"We're using the Ephesians 4 model, which talks about equipping the saints for the ministry," Brian said. "If we're empowering people to do God's work throughout their lives, then we're doing the job we're called to do."
Brian has seen changes on an individual, church and city level. People are better equipped to communicate with others from different cultures and to be more open-handed. As a church, the attendees want to engage different ethnicities within the community without the anger, hate and violence present in the past.
"When people have committed to Jesus, they don't have the right not to forgive and not to love," Brian said. "Sometimes it's hard to see things from another perspective, and when these kinds of things happen, we feel mad. But we don't get the right not to be a Christian now because it hurts."
Listen to Brian on the Thrive with Asbury Seminary Podcast!
---
Prepare for the Call
Learn more about how Asbury Seminary can help prepare you for your call. Fill out the form below to get started!
Loading...