Last updated: July 10, 2023
In American towns and cities, The Salvation Army is most often visible in the form of thrift stores and Christmas Red Kettles. Many have no idea that there is so much more behind the vivid red signs with white letters.
The Salvation Army began about 150 years ago by Methodists William and Catherine Booth in the east end of London, England. They founded it to seek salvation for the masses and help for the downtrodden. "The Salvation Army doctrines are Wesleyan through and through; wedded to that is a heart of justice for the oppressed," says Asbury Seminary alumnus Colonel Richard Munn. Indeed, The Salvation Army declares that its threefold mission is to save souls, grow saints, and serve suffering humanity. Richard says you'll find a Salvation Army presence in over 130 countries.
Richard would know. He and his wife Janet served for 35 years as officers for The Salvation Army. The last three of those 35 years, they were Directors of the International Social Justice Commission (ISJC), which is the Salvation Army's strategic voice to advocate for the world's poor and oppressed. "It's not an evangelical gospel and a social gospel. It's both together," Richard says. The ISJC began in 2008 and is situated close to the United Nations building in Manhattan, New York City. "There has always been a Salvation Army rep to the U.N. That tie was incredibly strengthened with the creation of the ISJC."
The cutting edge of Richard and Janet's time as Directors was during the pandemic lockdown, when the anti-human trafficking component grained prominence, funding and structure. "The Salvation Army has been described as the most effective, comprehensive organization in that regard," says Richard. One of the highlights for the couple was when a young woman from Africa fled to the Netherlands as a refugee from her trafficking environment. She ended up a featured speaker in the U.N. for one of the gender-based violence conferences. "It was so amazing to greet her in Manhattan and to walk her through the security of the U.N. building," says Richard. "My wife was her primary host."
Speaking of serving along with his wife, Richard's D.Min. thesis focused on the egalitarian leadership structure of The Salvation Army, a structure doubtless inspired by the organization's founding couple. His research was specifically on the husband-wife pastoral team in New England, where he and Janet reside. His thesis concluded that such a joint ministry, though not without complications and challenges, is thoroughly rewarding and effective. Richard received his D.Min. from Gordon Conwell, but his preparation for ministry began long before that.
Born in London, England, Richard's parents were Salvation Army officers. He spent his first 10 years in the Congo, went to high school in England, and was "born again" in the United States. He met and married Janet, and the two felt a calling to ministry as Salvation Army officers. "Less than a year after the wedding, we went to Wilmore, KY," he says. His mentors had graduated from, and highly recommended, Asbury Seminary.
The newly married couple was, in Richard's words, "penniless in Wilmore." Richard quickly found work at a local farm that hired seminary students Saturdays and Mondays, and by night he flipped burgers at the Asbury College grill.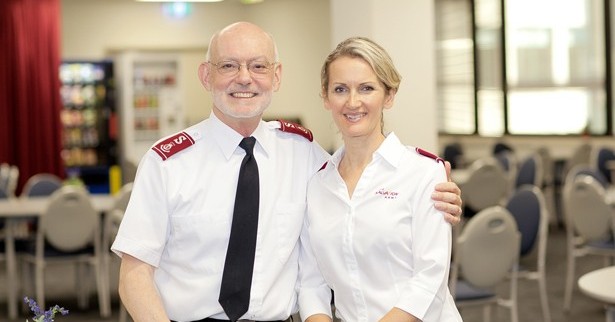 But Col. Munn most remembers Asbury Seminary for something other than painting fences with "Kentucky boys" and flipping burgers to fund his education. "I cannot ever thank God enough for the influence of Asbury Seminary on my life. It goes deep. I was introduced to holiness, really for the first time," he says. 
Professor Dr. William Arnett and the Seminary organist Barron Buchanan talked with Richard about holiness, and their discussions took deep root. "I knelt down at my bed in Broadhurst Manor and asked God to fill me with his Holy Spirit. I realized several days or weeks later that there was a lightness, there was a confidence, there was a cleanliness, there was an energy, that had not been there before. And so I point it back to that little earnest prayer of a first-year seminarian in Wilmore, KY, which began me on this lifelong journey of holiness."
During Richard's time at Asbury Seminary from 1981 to 1985, he was in a Wesley small group. In his group one year was none other than Dr. Frank Bateman Stanger during his last year as President. "He was very vulnerable with his struggles about retirement. It was such a privilege," says Richard of being in a discipleship group with Dr. Stanger.
According to Richard, his primary focus in Seminary was eating, breathing, and sleeping the Kingdom, John Wesley, E. Stanley Jones, and other great Wesleyan leaders. He says he "needed to be imprinted with holiness," which laid the foundation for his "justice conscience" that came later. Richard says he highly recommends Asbury Seminary for its deep commitment to Scripture, holy living, and the necessity of evangelism. "How can our generation communicate the great truths of holy living… [and] incarnationally serve the broken, the needy? To me, those are the greatest unfinished jobs in the world. Asbury Seminary serves as a beacon and a source of inspiration for many, many people," he says.
Although now retired, Richard says that "the great commission never finishes. A calling to love, serve, preach, and proclaim the gospel never ends, right? I'm now in the ranks of the retired officers." Richard has been pursuing writing and musical endeavors in his newfound retirement, while Janet still serves with The Salvation Army in Manhattan.
---
Prepare for the Call
Learn more about how Asbury Seminary can help prepare you for your call. Fill out the form below to get started!
Loading...