Last updated: October 15, 2019
Danny Key played his first church gig for a quarter when he was eight years old.Although his dad bribed him to perform, Danny still remembers the feeling he had making people happy with his music. For 41 years, he's led a variety of children, youth and adult choirs, sharing the joy of music and theology with choir members and congregations.
Danny always loved music. As a preacher's kid, he remembers watching the music ministers, thinking, "That's what I want to do." He attended Asbury University, studying music education. During his four years, he fell in love with directing youth and children's choirs.
After graduating from Asbury Seminary, Danny dove right into his role as children, youth and adult choir director at Albany First Methodist Church in Georgia. He worked there 15 years before moving to Houston, Texas, to be part of a satellite church plant at First Methodist Houston, where he spent eight years. Danny finished the last 19 years of his career in Augusta, Ga., at Trinity on the Hill United Methodist Church.
Throughout the years, Danny has seen music play an important role in the lives of kids and teens struggling with depression or poor self-esteem as they become part of something bigger than themselves. Through music, he helped children and adults alike learn theology and praise in a way that no other medium offers.
"I am a total believer in preaching and the spoken word being a great way for the gospel to be declared," Danny said. "But sometimes, with a hard heart or a grieving heart, music has an incredible way of working transformation."
One of the kids in Danny's choir was diagnosed with Asperger's. He found social interaction difficult, experienced bullying and contemplated suicide. His freshman year, he joined the youth choir.
"He had some musical ability, but more importantly, he was embraced by that youth choir. He felt like it was the one safe place he could come every week and be himself and not be made fun of," Danny said. "He is now in college and very successful. He's a gifted writer. He says the Love Unlimited Youth Choir saved his life."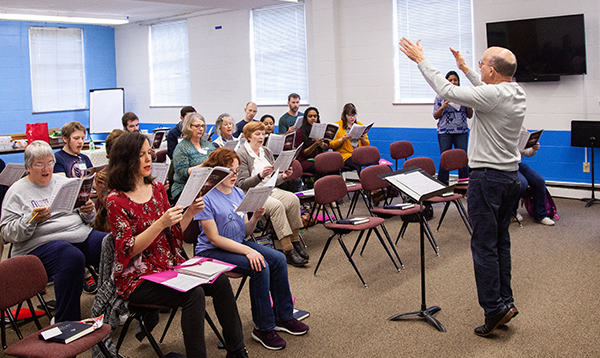 While at Trinity on the Hill UMC, Danny led six choirs, one for every age group in the church, composed of members age four to 95. Each summer the youth choir takes a 10 day tour and every fourth year to Europe. This past summer, which was Danny's last tour with the choir, they toured Ireland singing in churches in both the Republic of Ireland and Northern Ireland.
"Sometimes we make the mistake of thinking that we're taking Christ to other lands, but honestly, all over Ireland, we were just very moved by the strength of Christianity in Ireland," Danny said.
In 2018, Danny returned to his alma mater to lead the Seminary Singers, of which he was a member as a student under the direction of Professor Jack Tremain. Danny recalls those years as some of the happiest of his life. In those days, the group did a 10-day tour and Danny enjoyed singing all over Texas with President Stanger.
"When Dr. Tennent invited me to take this group, I was extremely honored and somewhat intimidated because it never occurred to me that I would be back," he said.
The newly named Seminary Singers lead the community in the annual Advent Vesper Service, December 2, 2018, at 6 p.m. in Estes Chapel.
---
Prepare for the Call
Learn more about how Asbury Seminary can help prepare you for your call. Fill out the form below to get started!
Loading...