Last updated: November 1, 2023
Called to Study Theology
David Khual grew up in Myanmar as a third generation Christian, going to church and Sunday school weekly. Yet being in ministry never crossed his mind, as no one in his family is a minister.
In Myanmar, 10th grade is the final grade during which students must pass an exam to qualify for college. David's 10th grade year brought an unexpected crisis. Three months before the exam, David became so ill from a paralytic stroke that he was hospitalized for two months. Tutors, teachers and friends were there to help him study.
One morning, David woke up unable to formulate his mouth to drink or speak. Many people told him he would never speak well again. "There was little hope to recover, so I prayed to God, 'If you heal me, I will serve You all my life.' I was already a born-again Christian, but I had never decided to be a pastor or serve in ministry," he says.
God answered David's prayer, and David recalls his healing as the beginning of him feeling the love of God. Then David promised God he would go to seminary to study theology. 
Experiencing God's Unconditional Love
Back in school, David passed his final exam and wanted to be an engineer. Instead of going to Seminary, he went to Yangon University to study mechanical engineering. "When I healed from my stroke, I felt the love of God, but I didn't commit to follow His call," David says. "But God is still faithful, and His love is there always. If I were God, I might not follow that person who had broken his promise to serve me. My love is very conditional. But God's love is not that way. He just loves us no matter who we are." According to David, God's love followed him, and he felt directed back onto the path toward seminary. He left Yangon University and went to Yangon Theological Seminary in Myanmar for his B.Th.
In 2013, David met Limnu through school. "We became good friends, and later on she became my girlfriend," he says. In 2017, after receiving his B.Th., David came to the U.S. to earn his M.A. in Biblical Studies from Missio Seminary in Philadelphia. He stayed in contact with Limnu almost every day and intended to marry her. However, he could not return to Myanmar for a wedding, first due to the covid pandemic and then to the military coup and fighting in Myanmar.
Finding Asbury Seminary
Unable to return to Myanmar, David looked for an M.Div. program in the U.S. and discovered Asbury Seminary. What caught his attention were the courses in spiritual formation, pastoral counseling, the theology of John Wesley, and inductive Bible study. "I chose Asbury Seminary because the M.Div. program includes all that is necessary for my future ministry," David says. "Inductive Bible study is the tool, I believe, for preaching and teaching not only believers but also unbelievers." David belongs to a DNA group and experiences Asbury Seminary as a welcoming community where students, staff and faculty care for one another.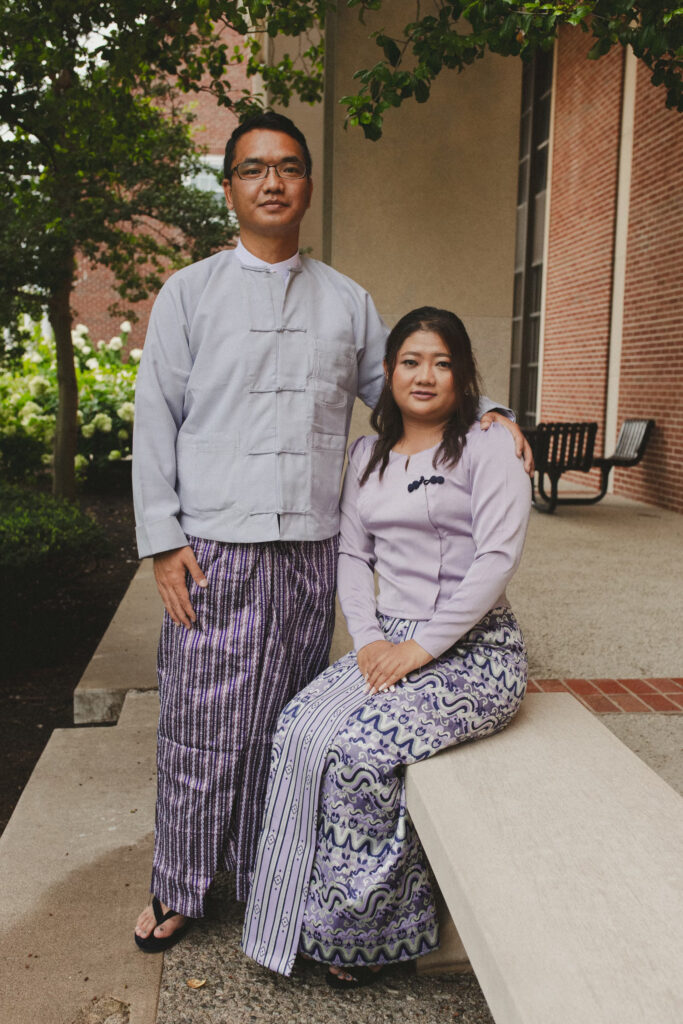 David and Limnu continued their long-distance relationship as they looked for a way to reunite. Limnu, a teacher, applied to Asbury University, which is across the street from the Seminary, to begin a middle school education degree, and she was accepted. Finally, in July 2023, Limnu came to the U.S., and the couple was reunited after five years of separation. They were married in August at Mount Freedom Baptist Church, where David had become a member. Church members helped them with wedding planning and even funding a catered reception.
Sharing God's Love in Myanmar
As David and his wife Limnu carry on their studies in Wilmore, KY, they have their future ministry in mind. After their graduations, they plan to return to Myanmar to show the love of God to Buddhists. According to David, Buddhists rely on personal effort in order to be somewhere good or be a better person when they reincarnate. His ministry focus will include questioning their belief in reincarnation. He also wants to reach them by teaching them English and meeting their everyday needs for food and clothes. Most of all, he wants to show them the love of God. "With just a simple word, 'God loves you,' they know who Jesus is, and they know the story of Jesus," says David.   
In his ministry, David will bring with him the love of God he first experienced in the hospital in 10th grade. "Without feeling the love of God, we cannot share that love to others," he says. "I cannot hold that love. It's not just for me. That love is for everyone; that's why I want to do this ministry. Even though you are alone – if you feel that love, you feel that Someone is near you; someone that you can talk to anytime, anywhere. And this love comes from the Creator of heaven and earth, the One who owns everything."
---
Prepare for the Call
Learn more about how Asbury Seminary can help prepare you for your call. Fill out the form below to get started!
Loading...