Last updated: September 24, 2019
For George Wasson, Lead Pastor at Faithpoint Church, saying yes to God was more than just one moment. It was a lifetime of yeses that led him to the next right thing on his journey. He said yes to his call to ministry, yes to attend Asbury Seminary, and yes to God's plan for his life, even when those plans got off George's timetable.
In high school, George dreamed of having a really good job and a family someday. In 1993, he left the corporate world to attend Asbury Seminary. After graduating in 1996, he served on staff at a church in Houston, Texas, for three years before feeling called to pursue a D.Min. degree at Asbury Seminary.
For him, one of the biggest blessings of the D.Min. program was the cross-cultural trip to South Korea. At the time, most of his colleagues had already received their next appointments, and George had heard nothing. Going to Korea was a season of asking God for the next step. While praying on the trip, George felt an overwhelming sense that it was time for him to return home to Indiana.
"It was a huge yes because it meant going to a church that was very unlike me," George said. "I've always lived in a big city, but they offered me a country church. My yes was again, that being sensitive to, and that being as attuned as I possibly can, moment by moment, to where the Spirit might be leading me."
A couple years later, the conference invited him to plant a church in Floyds Knobs, Indiana. That yes led to planting Faithpoint about 15 years ago.
"Each day I pray, 'Okay, God, how do I do not my will, but Yours? What is it that You're doing,? How are You leading? How can I be attuned to that, so that it's more of You and less of me?'" George said.
As George followed God's call into ministry, he found his dream of a family to be slow in coming. As he struggled with that, he felt God ask: "Am I enough for you?"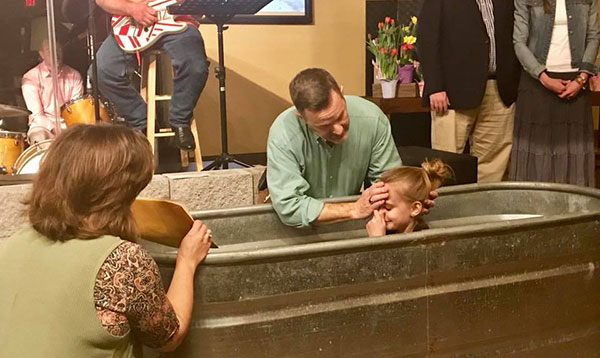 "I realized that for me, yes, He was enough," George said. "Even though I had this dream, I knew I had to find my sufficiency in Christ and trust Him."
After George arrived in Floyds Knobs to start planting the church, several church members suggested he meet a lovely, Christian woman. George was skeptical, until one day, she came with her brother and sister-in-law to church. They met briefly before the service, and in the middle of preaching, God spoke to him.
"He's not usually like that with me, but He spoke to me and said, 'She's the one,'" George said. "I thought, 'What does that mean?'"
They talked more after church, and started dating shortly thereafter. George believes that because he sought God with his whole heart, God brought him the gift of his wife Jenny.
"For others, it will be different, but for me it was to be in that place of surrender, of saying, not my will, God, but Yours, and then receive the blessings that God had for me," he said.
George has been pastoring at Faithpoint for 15 years. As he shepherds his congregation, he helps them find practical ways to live out their faith each day. He and his wife Jenny have two children.
---
Prepare for the Call
Learn more about how Asbury Seminary can help prepare you for your call. Fill out the form below to get started!
Loading...