Last updated: September 25, 2019
When Greg McCortney said yes to God, he had no idea that he would wind up in the State Capitol. Yet, whether pastoring, working as a hospice chaplain, owning hospice companies, or serving as an Oklahoma State Senator, he believes his calling to serve others hasn't changed.
"I've done a lot in my life now, but I don't think I've ever attempted something big, as much as I've told God 'yes,' and He turned my 'yes' into big things," Greg said. "I didn't set out to do many of the things that I've done. I've just been willing to do what God wanted me to do."
After graduating from Asbury Theological Seminary, Greg planted a church in Norman, Okla. After experiencing burn out with the administrative tasks of pastoring, he took a job as a hospice chaplain. He discovered that he loved bedside care, telling stories, talking and being the eyes, ears and voice of God.
"Getting to do that at a time that is so important in life when people who may not have looked at their relationship with God start looking at their relationship with God, is very rewarding," Greg said.
Greg owns and operates McCortney Family Hospice and McCortney Family In-Home Care. These companies care for an average of 200 people annually and have 30 patients in their care on a given day.
Both companies meet the spiritual, emotional and physical needs of the patient and their families.
"We're the experts at something that nobody wants to be an expert at, but at some point in your life, you're really going to need an expert to help you," Greg said. "We help families care for each other in really stressful situations. It's incredibly important to be there to help those families."
McCortney Family In-Home Care provides assistance to senior citizens who need short or long-term care for daily living needs, companionship, or help recovering from illness, surgery or injury. McCortney Family Hospice opened in 2004 and now has two locations in Ada and Norman, Okla.
Although Greg served on the City Council and as the Mayor of Ada, he had no plans to seek a higher office. The previous senator was term limited. People asked if Greg would run and he laughed it off. One day he said he'd pray about it. He and his wife, Ashley, did just that.
One morning, Ashley walked into the room and said, "I'm done. We both know you're supposed to run, and now we just need to pray that God will surround us with people to support us."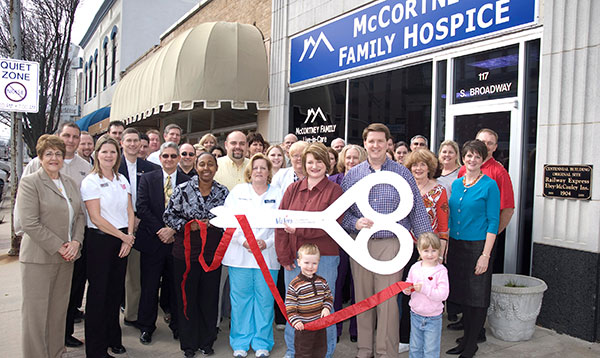 In February, Greg joins his fellow senators in Oklahoma City when the senate begins its session. From February to May, Greg votes on new bills and policies, as well as writes bills that affect change for his fellow Oklahomans. Greg's job as senator also includes connecting his constituents with government offices that can provide aid for their particular needs.
"I'm still in the ministry of serving, but my office address has changed," Greg said. "I have the same call, but I'm doing it in a different way than I ever dreamed."
When not in session, Greg plans to conduct studies to help the cities in his district develop a reliable source of income. He also plans to work with the judicial system to provide juvenile delinquents with access to education and the tools they need to become successful adults.
"To me, we're not called to sit quietly in the back," Greg said. "That's not the example that Jesus gave us. We have to show up and get involved. Somehow along the way Christians have gotten the idea that separation of church and state means that Christians need to not be part of the state."
Although politics are often associated with underhandedness, Greg and his team committed to run a clean campaign. His biggest concern was to be honest, dealing only in the facts. Often, Greg found encouragement from his constituents.
"I'd be out knocking on doors and by the end of the conversation, would end up praying with them or helping them through family problems," Greg said. "Through what is seen as the nasty, dirty business of campaigning, there were days I was having a bad day and would find encouragement through others, too."
Greg holds his position as State Senator until 2021.
What do you wish someone had told you before you started your ministry/career?
Take business classes or some basic accounting classes.  We focus so much on the religious side of preparing for ministry, but few people leave seminary with their M.Div. and enter a ministry that doesn't have a business component.
What advice would you give someone just starting out?
My advice for anyone starting ministry is to remain open to God calling you. Your M.Div. is the beginning of what God wants to do with your life not the finish line.
---
Prepare for the Call
Learn more about how Asbury Seminary can help prepare you for your call. Fill out the form below to get started!
Loading...