Last updated: January 2, 2020
Not only does the heart of River City Church beat for the community, but it's location on a roundabout in the middle of Atlanta Road, positions it in the city center. While the road divides Smyrna, Ga., based on social-economic status and ethnicity, River City Church bridges those gaps, welcoming all.
"All streets converge right where we are," Jordan Craig, Associate Pastor at River City Church, said. "We're set up for diversity."'
Jordan first experienced his call to ministry and church planting as a teen. A few years later, he and his wife realized the time to plant was now. They joined with the pastors of River Stone Church and the pastors of River City Church, Josh and Sara Turner, to plant River City Church as a team.
The church started with about 40 people and has now grown to 150-160 each Sunday. From the beginning, the church focused on organic growth from the inside out.
"We want to grow through engagement and mission," Jordan, said. "We are asking God what are the ways to do that and allowing him to lead us."
A few years ago, the church started an outreach for those who play under the Friday night lights. Five chaplains engaged with the Campbell High Spartans each Thursday night with dinner and a devotional. About 15-20 young men showed up on a regular basis. Many came to know Jesus.
At the end of the season, the church took them on a retreat and created a small group just for the football team. They not only receive biblical training, but also learn life skills.
"What warms my heart more than anything is when we reach marginalized people," Jordan said. "Our engagement with the community is important to me."
Jordan leads a variety of church events to build relationships through genuine hospitality, friendship and discipleship. Their goal is not only to connect with visitors, but also to love those within the church who may still feel lonely.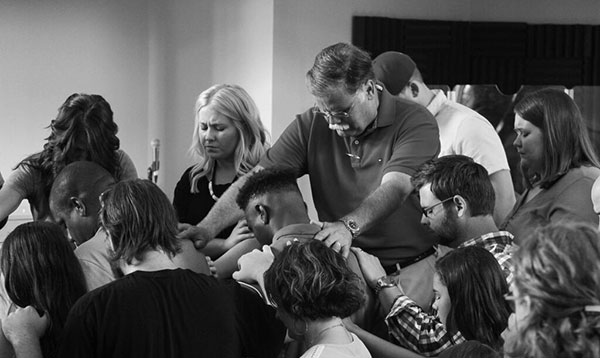 "I lead a team of people that focuses on the physical needs of the poor, needy and marginalized," Jordan said. "Whether they're financially in need or homeless, we discuss those needs, pray for a direction to meet those needs, and then put action behind those prayers."
Jordan balanced his role in the church with his studies via Asbury Seminary's distance learning program. As a lifelong learner, he wanted to engage in a learning community and build lasting relationships, but stay on mission with River City Church.
"I never wanted seminary to pull me out of my context to teach me and then throw me back," Jordan said. "Asbury Seminary's program allowed me to learn while I'm doing ministry and that makes a world of difference."
Learning and practicing simultaneously creates a harmony that allowed Jordan to implement and preach what he learned immediately. In the degree's cohort model, Jordan studied alongside 17 others online and during on-campus intensives over the course of three years.
Jordan graduated with a Master of Arts in Intercultural Studies with a church planting specialization. Because of the Seminary's Advanced Standing program, Jordan earned 12 hours toward his master's degree while completing his undergraduate degree in Bible at Liberty University.
---
Prepare for the Call
Learn more about how Asbury Seminary can help prepare you for your call. Fill out the form below to get started!
Loading...