Last updated: September 24, 2019
Everyone has a story, and Kaylea Hutson-Miller gets to tell them. She's held mothers hands while they wrote their child's obituary, been in courtrooms when judges handed down sentences, and listened to victims share their deepest hurts. For Kaylea, chasing breaking news, going behind the scenes for an investigative piece or highlighting interesting people in a feature story, is more than a job. It's a ministry.
After nearly six years as the managing editor of The Grove Sun and nearly two years at The Delaware County Journal, Kaylea jokes that two-thirds of the county has her number. She's written award-winning, investigative pieces on domestic violence, child abuse, and alcoholism, and is currently working on a domestic human trafficking series.
Most recently, she focused on the Impact of Child Abuse in Delaware County. This series shared how the Delaware County Children's Special Advocacy Network started and ways the Network has helped victims rebuild their lives. She placed first for in-depth reporting at the Oklahoma Press Convention and first for public service reporting at the Oklahoma Associated Press in 2018.
"The main thing I do that helps others is that I get to tell the truth and shine a light in the darkness," Kaylea said. "I always say the truth will set you free. I think it's because I get to be with some people on their worst days and walk alongside them."
A few weeks ago, Kaylea broke a story related to child abuse and molestation. Through the process, Kaylea and the victim's mother formed a friendship. One day, the mom called, angry and needing to talk. Kaylea just listened, ending the call by saying, "If you need to call me, call me. I have no answers, but I'll listen."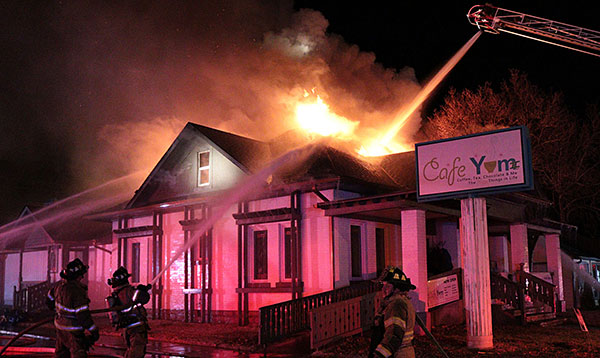 Later, she sat in a courtroom with a rape victim, testifying at her attacker's hearing. Afterwards, the victim shared more of her story with Kaylea.
"I got to highlight that and go deeper than 'this guy got 15 years,'" Kaylea said. "I don't remember him, but I remember her and her bravery and her courage and her strength. The story was less about him and more about her."
Not only does Kaylea provide a voice for those in the community, but she also mentors aspiring high school and college journalists. Kaylea became interested in journalism in high school and held various positions at The Chart at Missouri Southern State University, from staff writer to editor in chief. This fall, Kaylea accepted the position of adviser of The Chart at her alma mater.
"I'm hoping to nurture a passion for telling stories and a passion for looking behind the basics," she said. "It's easy to ask the surface questions, but to go deeper and ask why. I see the spark in so many of my students and it gives me energy because I see them as the current and next generation of writers. And that's what I love. I love teaching about [journalism]."
*All photos taken and submitted by Kaylea Hutson Miller.
---
Prepare for the Call
Learn more about how Asbury Seminary can help prepare you for your call. Fill out the form below to get started!
Loading...