Kofi Amoateng, Founder and Director at Africa Gateway Missions, once helped to plant 13 churches in a week, and planted an additional 11 churches in three years. Africa Gateway Missions believes if they have at least five people gathered together, they can start a church. He brought that philosophy to the U.S., and during his time as a Ph.D. student has planted a growing Ghanaian congregation at Trinity Hill United Methodist Church in Lexington, Ky.
In 2008, Kofi discovered the Ghana Evangelism Committee report that indicated there were 14,000 villages in Ghana where Jesus had not been preached. Kofi, already a minister in the Ghanaian Methodist Church, took this statement as a challenge and founded Africa Gateway Missions in response.
"There are churches we planted with established denominations," Kofi said. "The denominations worked with us to plant churches, and there were villages without churches where we saw the need ourselves, and without help from any denomination, we went ahead and planted churches."
From 2008-2012, Africa Gateway Missions has planted 11 thriving churches. Each pastor receives 50 pounds per month, which is about $70-$75 in the U.S.
"I always work with people who work, not for what they get, but what they can do for the Lord and other people," Kofi said.
Kofi's life is a testimony to someone who lives to help others. Although his father only attended church on Christmas and Easter, his father's secretary took him to church each Sunday at Agona Swedru in Ghana. Kofi experienced his call to ministry in a dream when he was 12 years old.
In his dream, the sky rained fire, instead of water. People everywhere tried to move to safety, but wherever they went, there was fire. He awoke startled.
"Is this how it's going to be on the judgment day?" Kofi asked. "Then, I need to warn people."
From that point on, Kofi started preaching about Christ's return in the market, on buses and community centers. As a teenager, Kofi left the faith, but returned when his future wife invited him to church.
"I thought, 'If that is the only way I'm going to get her to become my friend, why not?'" Kofi said.
Kofi later joined the Wesley Evangelical Society and started planting churches with that group for the Methodist Church. However, he struggled with sexual addiction and affairs.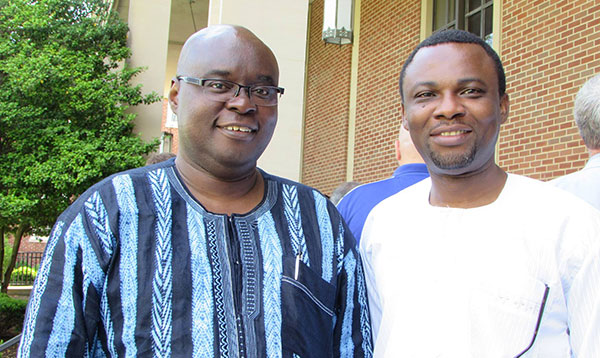 "I would weep after every encounter with a woman," he said, "Why can't I overcome my temptation with women?"
One night as he slept, he felt a presence in his room that instructed him to read I Corinthians 6:11. Four times the presence instructed him, and four times Kofi told the presence that he would read it in the morning.
The presence started shaking him. Kofi decided to read it so he could go back to sleep. The verse said:
"And such were some of you. But you were washed, you were sanctified, you were justified in the name of the Lord Jesus Christ and by the Spirit of our God."
Curious about what that verse meant, he read the earlier part of the chapter (verses 9-10), discovering that "some of you" were sexually immoral, idolaters, adulterers and homosexuals.
"From 1986 until this time, no woman can say that she had a secret affair with me," Kofi said.
As part of his research project, Kofi is studying the theology of symbols and believes this approach to be an effective approach to mission and theology in Ghana.
"I discovered that the type of hermeneutics that we do in America, will not fly with Africans," Kofi said. "We are not interested in the historical, critical two-sided approach to hermeneutics. We are interested in symbols and how they communicate to us."
In Ghana's oral tradition, the chief has an Okyeame, who speaks on behalf of the chief. This person not only deeply understands the message the chief wishes to communicate, but also understands the common language of the people. Okyeame takes the royal language and breaks it down for the people to understand.
"This is what happens when we preach," Kofi said. "We have been trained to understand what God is saying and break it down."
Kofi has done three focus group projects using symbols to communicate the Gospel and follow-up interviews in churches. He has found that wherever this method was used, all the people understood the richness of theology in a new way.
After graduating in 2018, Kofi plans to return to Ghana to serve in the Methodist Church, and to continue to spread the Gospel throughout Africa.
---
Prepare for the Call
Learn more about how Asbury Seminary can help prepare you for your call. Fill out the form below to get started!
Loading...