Last updated: September 14, 2022
Lillyan Vargas found healing and her calling at Asbury Seminary. With a heart to serve others, she is pursuing a M.A. in Marriage and Family Counseling, while working full-time as the coordinator of both the Counseling and Pastoral Care Program, and Mentored Ministry.
"I love my job because I'm helping people," Lillyan said. "I'm a liaison between the students and their program. I help them to understand the ins and outs of their [course of study]. In this role, I engage with about 80 percent of our Florida campus students. I get the privilege to listen to their stories."
God started healing Lillyan's heart in her first class at Asbury Seminary, studying the Epistles of John, with what was formerly known as the Latino/Latina Studies Program (LLSP).
"I actually audited the course because that's how committed I wasn't to taking this step" Lillyan said. "But it was in this class where I had a huge aha moment. I finally understood that I was saved!"
Although Lillyan had grown up in the church and was a very involved member, she understood Christianity to be about rules and hard work. At Asbury Seminary, she started her personal healing process to understand God's gift of grace.
"This was the first milestone in my healing process. I needed to engage in a truthful relationship with God, which I didn't have it," she said. "It had been all embedded theology till this point. I did what I did because my spiritual leaders said it had to be so."
Lillyan had been working at the Seminary two weeks when her boss and mentor detected the deep hurt within her and recommended that she seek professional counseling. Lillyan had been taught that seeking help doubted God's power and authority in her life and had been rebuked for saying that she didn't think she was emotionally well.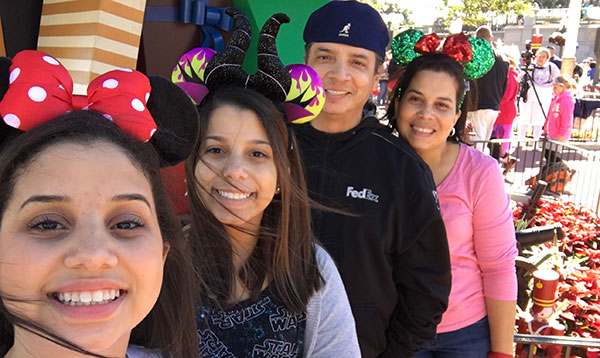 "No one had ever told me that I needed help," she said. "Because of my helping nature and my talents, I was always very busy in ministry throughout my entire life. I gave so much, but I never took care of myself."
During her counseling sessions, Lillyan felt that helping others in this way was what she was created to be. Although she doubted what she was hearing, God kept confirming her calling. Lillyan is pursuing the M.A. in Marriage and Family Counseling to obtain state licensure.
"I can be a beacon of light among the unsaved," Lillyan said. "I'm most passionate about those who have been hurt by the church. My emotional wounds were also spiritual wounds, and I have discovered that your genius is found in your wounds."
Lillyan expects to graduate in 2019. Through her work post-graduation, she desires to help others improve their relationship with each other, with themselves and with God.
Lillyan shares practical advice to those just beginning their time as a student.
What would you tell a student just beginning their studies?
There will be moments where you are going to doubt your call and/or this preparation. You are not alone! Many have thought this. This, too, is part of the process. God is timely with helping us through these moments of discouragement. Hang in there. Press forward. Talk to someone. This too shall pass.
---
Prepare for the Call
Learn more about how Asbury Seminary can help prepare you for your call. Fill out the form below to get started!
Loading...