Last updated: October 1, 2019
One can of food means the difference between a good and bad day to many living in Granite City, Ill. Lisa Guilliams founded Twigs® in 2011 with the vision of "a child, a neighborhood, a community, and a world without hunger." Now, Twigs partners with schools, several large corporations and those in the community to provide free summer lunches, weekend snacks during the school year, and a mobile market to those who are food insecure.
After Rev. Lisa Guilliams was appointed to Trinity United Methodist Church in Granite City, members of the congregation began examining ways to better serve the community. It didn't take long before the answer landed on the church's doorstep.
A retired couple living near Trinity UMC found themselves unexpectedly raising their seven grandchildren. Living on a fixed income, their savings wasn't enough, and they were struggling to provide for their family. With only one can of food in the house, they turned to Lisa for help.
Lisa made some phone calls, and a few congregation members dropped off the food. Two of the grandchildren, a three-year-old girl and a four-year-old boy, came to help carry in the bags. The girl grabbed a box of cereal and exclaimed, "Papa, it's gonna be a good day. It's going to be a really a good day."
"One can of food, one box of cereal really is the difference between a bad day and a really good day," Lisa, founder of Twigs and Pastor of Trinity UMC, said.
Lisa and her church realized that this situation wasn't an isolated incident. According to the Feeding America 2014 Executive Report, 31 percent of children in the Missouri-Illinois bi-state area are food insecure. Seventy-seven percent of families live below the poverty line. Many make a daily choice between buying food or paying bills, while others simply go without.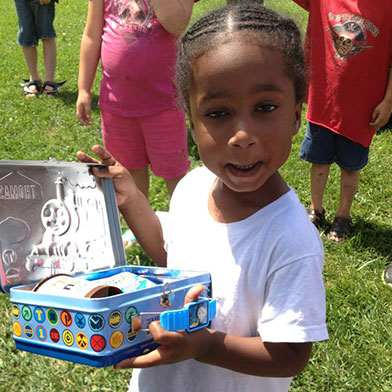 They decided to do something about it.
"It's a God-sized vision that we could not orchestrate," Lisa said. "This whole vision of childhood hunger has caused our church and community to really embrace the idea of being a mission based church."
Twigs volunteers, corporate and community partners, city and school officials work together year round to provide children participating in their school's National Free and Reduced Lunch Program with nutritious meals. That first summer, Twigs served 2,350 lunches in just one community. In 2015, more than 60,600 lunches were served to hungry children in 15 communities.
During the school year, Twigs also "packs-a-snack" for children in food insecure families. Although Twigs has no full-time staff or budget, they packed 6,183 snack packs in five school districts in 2014-2015. As a result of the program, the schools report fewer disciplinary problems, better attendance and improved grades.
"Twigs has provided our students with a bag of food each Friday with no questions asked," Michelle Myatt, a teacher in the Granite City School District, said. "There isn't any judgment or qualifications. Just one caring group of people helping to provide a service that is so desperately needed."
Twigs partners with hundreds of volunteers, school and city officials, the St. Louis Area Foodbank, Kraft Foods, and Armour-Eckrich to provide thousands of children with nutrition year round.
Yet, one of the most life-giving partnerships is with the Fountain View Manor Memory Care Center. Every Tuesday during the school year, the residents pack 100 of the 170 snack-filled backpacks given to children each Friday. The end result is more than just full tummies.
"Our residents take away a sense of pride, accomplishment and self-worth that cannot be replaced," Kevin Rader, Life Enrichment Coordinator and Music Therapist at Fountain View Manor, said. "The hard work, effort and love put into each bag for the children TWIGS serves is all that our residents have to give. Our residents are literally putting everything they have into each bag of food for each child."
Twigs is currently in the process of expanding its Distribution and Community Outreach Center.
"Seeing strangers working together to transform lives by feeding children and their families is inspiring. That's big," said Mark Myers, Asbury Seminary alum and Trinity's Community Developer.
With this new building, they hope to be able to serve more people and host additional outreach programs, such as health and educational programming, free wellness screenings, and cooking and nutrition classes. In the new facility, Twigs could serve 363,858 lunches, as well as host seasonal events.
---
Prepare for the Call
Learn more about how Asbury Seminary can help prepare you for your call. Fill out the form below to get started!
Loading...