Last updated: December 9, 2022
Mami Tsutada can say with the psalmist David that she has a beautiful inheritance. As a sixth-generation Japanese Christian, she came to Asbury Seminary to be equipped as a pastor if that was where God was leading, but she discovered his heart for broken families. Today, she's pursuing both a Master of Divinity and a M.A. in Family Counseling to help other families pass down the blessing of faith.
"Blessings are for a thousand generations, but curses are for two to three," Mami said. "I want to focus on building firm Christian families because I don't want to be the only sixth-generation Christian."
Growing up a preacher's kid, Mami witnessed both the hard work that pastors put in each week and their children's apathy toward faith. She often saw Christian parents working in the church, while their kids were studying for finals. She watched many of her friends from Christian families hate church and struggle with their faith.
"One of the reasons why I'm interested in family ministry comes from my heritage," she said. "[When I was younger,] I wasn't aware of this blessing of handed-down faith. As I grew older, I realized how hard it is to succeed in faith, especially in Japan."
Her great-grandfather, David Tsugio Tsutada, known as "the John Wesley of Japan," went to prison for two years during World War II for refusing to worship the emperor. While he was in jail, the Lord gave him the vision to start Immanuel General Mission and Immanuel Bible Training College.
Mami accepted Jesus when she was three years old. After eating lychee, a sticky, Asian fruit, her parents told her to wash her fingers. She didn't, but said she did. Her parents took that moment to introduce her to Jesus. Together, they looked at why human beings were sinful and that Jesus had died to cleanse us from sins.
In middle and high school, her family moved to the Philippians so her father could pursue a M.Div. at Asia Pacific Nazarene Theological Seminary. In the mission school, Mami experienced tension and hatred from other Asians because she was Japanese.
Mami never thought about leaving the faith, but was angry at God as she struggled to find friends in the early years of high school. She and her parents began to pray for just one friend. The next Sunday, God gave her a Korean friend.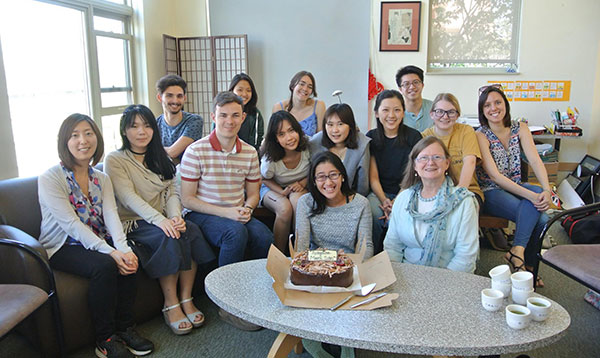 "God showed me how I was categorizing them, too, when there were really nice people among them," she said.
At Asbury Seminary, Mami attends a young adult group at All Nations United Methodist Church, made up of Hispanic, African, French, American and Korean people. She's also part of Pray for Asia at Asbury Seminary that meets once a week. Students from Korea, China, Taiwan and Japan gather together for healing from past hurts and scars and to lift the unsolved personal and national frustrations to God.
"We started last year," Mami said. "Sometimes it's only me, and sometimes it's 10 people, but we have a heart for our Asian brothers and sisters and to remember what's happening right now."
Although Mami isn't sure where God is leading in the future, she's committed to serving the people of Japan.
"They have good standards and morals, so people don't see them as people in need," Mami said. "[For me,] attempting something big is changing the idea of what family in Japan looks like. I'm not sure what that looks like right now, but there are millions of possibilities. It just takes faith."
---
Prepare for the Call
Learn more about how Asbury Seminary can help prepare you for your call. Fill out the form below to get started!
Loading...