Manik Corea jokes that he loved the church before he knew the Lord of the church. As a pastor's kid, Manik grew up in the church, but at about 13, he became a committed follower of Jesus. As a teen and young adult, God planted seeds that later confirmed a missionary calling to the world at large. Manik's small steps of faith led to bigger yeses and today he serves in Bangkok, Thailand, as Global Executive of the New Anglican Missionary Society (NAMS).
In 1998, Manik worked for a magazine in Singapore. One day he was invited by a group of his church friends  to dinner with Rev'd. Dr. Jon Shuler, founder and global leader of NAMS. Over dinner Manik shared how he had recently completed university studies in London, England, and had enjoyed serving in international student ministry.
"At the end of the meal as we were saying goodbye, Jon looked me in the eye and said, 'I think God's got a work for you and me in England reaching the nations,'" Manik said. "I was stunned, but it was the Lord."
Manik accepted Jon's invitation to intern with NAMS in South Carolina for a few months before he was sent to Colchester, England, to help plant a church (DNA Networks Church) with an Anglican pastor and his wife near the University of Essex. At that point, Manik felt he did not know enough to be of use in a church-plant in a skeptical post-Christian context.
"Jon encouraged me that the obedience of faith is proven in our stepping out," he said. "Faith is really spelled RISK. I just had to step out, not knowing the culture or what I was to do really, but the Lord had a plan and was gracious."
Manik met Enoch, a Sri Lankan grad student.  They began to pray together to reach university students for Christ. They started small Bible-discussion groups, allowing students both non-believers and Christians, to share, discuss and to ask faith-based questions without judgment. Manik said they majored on 4 'R's – Raising (our voices in prayer), Rice (eating together often), Relationship (building friendships of trust) and Rescue (sharing the Gospel story). As the group become friends and relationships thrived, international students started coming to faith, and attending the church-plant in the town.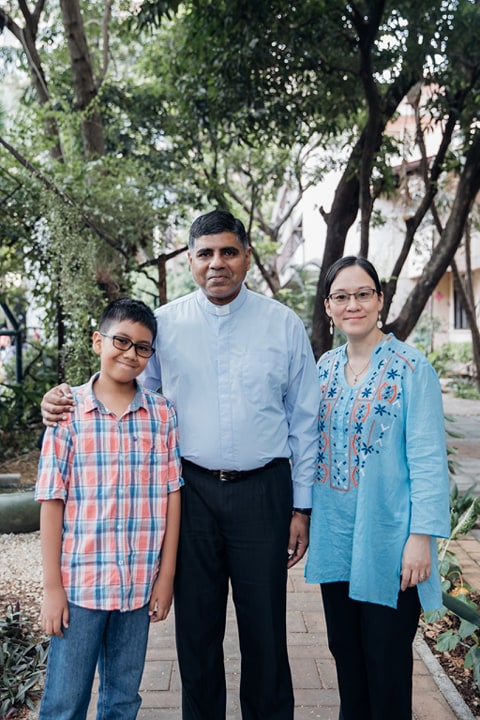 As Manik continued to serve, God confirmed his call to global church planting in a profound way. In 2000, during a time of ministry at a New Wine Conference in Sheffield, England, a national church leader told Manik that he believed God was calling him to apostolic ministry. At the time, Manik didn't know exactly what that meant.
Two years later in Colchester at a gathering of pastors and church-workers in the town, a visiting pastor from London with an established prophetic ministry prayed over Manik and again confirmed his apostolic calling to the nations.
As God continued to open doors for Manik to share the gospel, he continued to say yes. For the past 12 years, Manik and his wife Maple have lived and worked in Bangkok, Thailand, as cross-cultural missionaries. In 2012, they began to plant All Nations Bangkok, a small, yet vibrant bi-lingual NAMS base community and church. Having raised up leadership for All Nations, they are preparing to return to Singapore to establish a global office and base for NAMS there. As Global Executive of NAMS, Manik leads the day-to-day missionary and indigenous work in 14 countries, as well as partnerships in about 20 other countries with the aim of helping plant new communities of faith through intentional disciple-making.
"There's an old church planting adage that says, 'It's easier to have babies than to raise the dead,'" Manik said. "Sometimes it's hard to cast vision for church-planting within an established church because people have gotten settled and comfortable in their community. But a church that does not reproduce itself will eventually die. So making the effort to send and go with a team to another part of the city or state with Christ's mandate to make disciples of all peoples–it's a lot of fun and hard work, but it's a way for the church to re-create itself in new ways."
Even as he leads NAMS globally, Manik is also pursuing a Master of Arts in Intercultural Studies with an emphasis in church planting, using the hybrid model, at Asbury Seminary. This model couples online learning with week-long intensives on the Kentucky campus.
"Studying online while I continue my work in Bangkok challenged me to grow," he said. "As it is a missions degree, the learning that I've been a part of has really focused on sharpening our understanding and formation as missionary leaders and disciple-makers in our different contexts. The instructors are top-notched, and I've learned so much from my cohort of fellow workers who are serving with or leading new church-plants, existing churches, organizations or just exploring missional ministry."
Manik expects to graduate in 2021.
---
Prepare for the Call
Learn more about how Asbury Seminary can help prepare you for your call. Fill out the form below to get started!
Loading...