Last updated: May 5, 2023
Molly Ann Halpin connects others with hope. Molly came to Asbury Seminary to pursue an M.Div. degree, but partway through her first semester, her dad passed away. Through her own journey of healing, she discovered God's calling on her own life.
"Often people mistake Romans 8:28 for God promising that life is going to be good as a Christian, when instead it assures that God will work out the good for his people," Molly said. "This doesn't mean the Christian life is devoid of pain, loss and suffering. His promise instead is that He is with us always and through all of these moments."
Molly added an M.A. in Mental Health Counseling to supplement her M.Div. and completed that degree in 2018. But it wasn't always easy or a sure thing. Molly almost didn't show up for day one of her first practicum at the Kentucky United Methodist Children's Home. Although shaking and about to cancel her internship, Molly decided she could "stick it out for one day."
The experience changed her course. She continued taking counseling classes and started an internship at the Asbury University Center for Counseling.
"That's when I really fell in love with counseling," Molly said. "I recognized the joy I found in walking alongside people in their journeys. My dad always used to encourage me 'to love people where they're at.' In counseling, we're not asking for people to come perfect and whole. As counselors, we're asking clients to come broken and to bring their vulnerabilities and imperfections. Counselors have a huge privilege and honor when clients trust their stories to their counselors and reach for help."
As she learned more about counseling professionally, Molly continued to grow in her personal formative journey. Molly is grateful to her friends, family and mentors who repeatedly offered her grace in her grief.
"I wasn't always making the best decisions, and I was scared that I offended God in those choices," Molly said. "A mentor firmly reminded me one day that I do not offend God in my imperfections. He loves me in my mistakes. I also had a great counselor who led me back to the Lord many times."
In one session, Molly and her counselor were working through the empty chair technique, in which Molly engaged in a role-played conversation with her father. During the conversation, Molly shared with her dad that she had learned about the principle of grace. To her, grace meant you can be a good person and still make mistakes sometimes; that your mistakes don't make you a bad person.
"In that moment, I was able to forgive him for some of the things that he wasn't here for and wasn't going to be here for," Molly said. "I was also able to forgive myself for not being perfect all the time."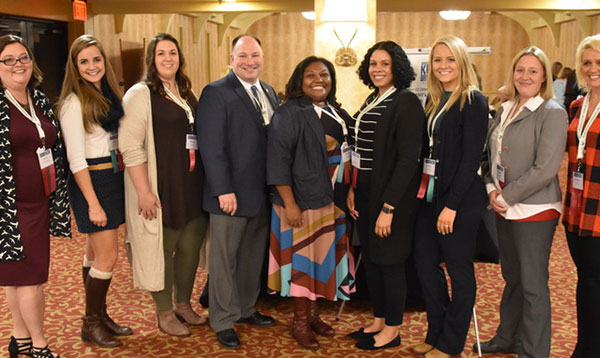 Molly believes that moment was pivotal because the experience not only helped her personally, but professionally. She learned how to build personal and professional relationships with others to help process life events, and not carry their baggage home.
"At Asbury Seminary, our counseling professors teach us that you don't have to say the Lord's name for him to be present in the session," she said. "If you think that you are the end all, be all for that person, you are wrong. There is a sacred space in everyone's life where only God can reside and only the Lord can claim that space."
During the summer of 2018, Molly completed an internship at Refuge for Women, a nationally recognized, faith-based organization that provides residential recovery for victims of human trafficking and exploitation.
"Refuge for Women was a completely different experience for me because we were literally walking into the house and each of the women had incredibly hard stories," Molly said. "One of the women was a few months younger than me and was writing about purity and what that means to her. It was incredible to just be present as she processed what that meant for her."
As Molly journeyed with these women, she realized that she wanted to pursue an M.A. in Marriage and Family Counseling, in addition to the M.A. in Mental Health Counseling, rather than an M.Div. degree.
"One of my counseling professors and mentors asked me one day, 'Why the M.Div., Molly?' and all I could think was I have been very privileged to grow up in communities where everyone has encouraged me to take every opportunity that came my way, for which I am so grateful," Molly said. "But I have finally found the thing that I would rather go 10 miles deep than 10 miles wide, and that is counseling."
In addition to her studies, she is also currently part of the Mentoring Leadership Academy with the Kentucky Counseling Association. This small group of leaders chats once per month, connects participants with mentors and requires participants to pursue a meaningful project. Molly completed her M.A. in Marriage and Family Counseling in 2019 and is creating space for others to find wholeness through her counseling services.
---
Prepare for the Call
Learn more about how Asbury Seminary can help prepare you for your call. Fill out the form below to get started!
Loading...