Last updated: September 24, 2019
Peytyn Tobin developed the Pack-A-Sack program to feed one child at a time. Each Wednesday, Peytyn and youth from the community pack 200 bags of food so children in Broward County, Florida, don't go hungry on the weekends. Pack-A-Sack not only provides nourishment to food-insecure children, but also gives youth the opportunity to learn leadership skills.
"If we can provide the food for the children to be nourished, that is the key to being able to break the cycle of poverty," Peytyn said. "If a child can learn what they need to learn, then they can grow and be who they were created to be."
Feeding America reports that more than 74,000 children in Broward County go to bed hungry. Pack-A-Sack started when Peytyn's daughter and her friends in the youth group realized that based on this statistic, four out of five of their friends might be hungry.
They decided to do something about it. In 2009, they applied for and received a $1,000 grant to feed 10 children. Pack-A-Sack is now in 11 schools and feeds more than 200 children.
"Every time we take on a school, we don't want to pull out once we've started unless the school says there's no longer a need," she said.
On Wednesdays from 4-6 p.m., youth from various schools and churches gather at New Horizon United Methodist Church to fill the bags with ravioli, fruit cups, applesauce and other goodies. Once a month, the children receive a large jar of peanut butter, a large box of cereal and shelf-stable milk.
"It's not the children who go to their cupboard and don't like what they see," Peytyn said. "It's that there's nothing there."
What began as Pack-A-Sack has grown into Nourishing Lives Inc., a 501c3 charity. Pack-a-Sack is supported by the local Rotary Club, various Key clubs, Kiwanis Groups, the Girl Scouts, Aldi Supermarkets and private donors. In addition to providing food, Nourishing Lives also offers Lit-Love, which teaches better reading skills, and In-Spirit, a leadership program that offers mentoring and leadership opportunities.
Volunteering at Pack-A-Sack fulfills the service hours middle and high school students need to graduate. Each week a different person is picked as the leader and tasked with completing the goal of the day.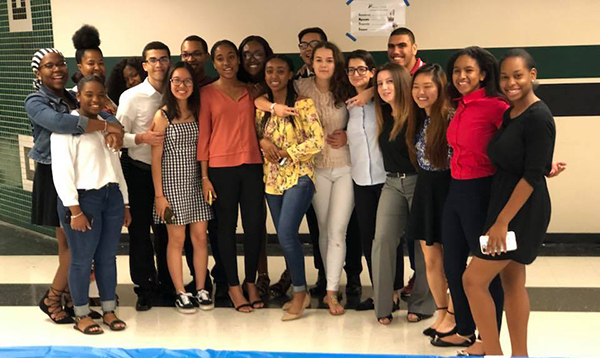 "I want young leaders to know that they have greatness within them," Peytyn said. "The way they treat themselves and others makes a difference in who they become, and they were created to be amazing and impact the world for the better."
After the bags are packed, supper and discussion follow, in which students talk about what it feels like to be hungry, what they think about the food choices, and how the food in the bag could be turned into meals. Every time a new food item is added to the bag, the volunteers taste test it to see if it's something that they would want to eat.
"Two hundred bags doesn't sound like a lot, but the lives that are affected is huge when you take in all who come to serve and deliver the bags and where we shop," Peytyn said. "It's just a domino effect that is building in the community and the idea that growing the good is something that everyone can be part of to solve a huge problem. It may be slow, but one child at a time makes a huge difference."
Peytyn is the Children, Youth and Family Pastor at New Horizon United Methodist Church in Broward County Florida. She received the 2018 Change Maker Award for Mentoring Young Leaders and Feeding Hungry Children from HandsOn Broward.
---
Prepare for the Call
Learn more about how Asbury Seminary can help prepare you for your call. Fill out the form below to get started!
Loading...