Richard Waugh came to Asbury in 2007 for the residential Beeson pastor program. He and his wife Jane and three children arrived from far-away New Zealand. Richard graduated with a D.Min and was awarded the Faculty's Distinguished Dissertation Award for 2010. He currently serves as National Superintendent of the Wesleyan Methodist Church of New Zealand, President of the South Pacific Conference of the Wesleyan Methodist Church and is Chairperson of the New Zealand National Church Leaders Meeting (all denominations). He is the South Pacific regional secretary for World Methodist Evangelism.
Ministry in New Zealand
I served the Methodist Church of New Zealand for many years but by the late 1990s the denomination was probably the most liberal Methodist Church in the world, accepting ministers living in sexual sin and more recently embracing same-sex marriage. Many of us prayed for a renewed Methodism, full of grace and truth.
In July 2000 the Wesleyan Methodist Church of New Zealand began with five ministers, five small congregations, no property assets but with a deep passion for Scriptural holiness, transformed lives by the Holy Spirit and real missional intent.
Despite the secular culture, we have grown through church planting from 5 to 25 churches, from 5 pastors to 51 pastors (most bi-vocational – including many younger men and women). Our renewal movement has gained full membership in the World Methodist Council, and we are pleased to take our place at the ecumenical table.
The Catholic Spirit I experienced at Asbury inspired me to take up senior ecumenical positions in the national New Zealand Church scene. Certainly in the Wesleyan theological stream we are especially well placed to bring unity within the wider Body of Christ.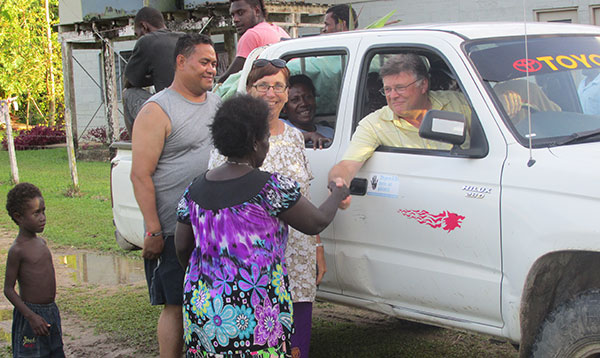 Ministry in the context of the South Pacific
Our South Pacific region covers many nations, cultures, languages and includes about 28 million people. The regional Wesleyan Methodist conference I give leadership to has 170 churches and 250 ministers.
Long distances over water and low income levels in the Pacific Islands make for a demanding situation for our conference, yet each year brings increasing numbers of worship attenders, many newly baptised Christians and so many young people growing in faith and service. Praise God!
Asbury Theological Seminary taught me that when a fully orbed Wesleyan theological worldview is embraced, churches will very likely be healthy and fruitful. Why? Because a Wesleyan view of being Christian offers a remarkably balanced and whole view of New Testament Christianity; applicable to any culture and any context.
---
Prepare for the Call
Learn more about how Asbury Seminary can help prepare you for your call. Fill out the form below to get started!
Loading...