Last updated: November 10, 2022
Youth Pastor. Racial Reconciler. Game-changer. To Rocky Shack, a degree from Asbury Theological Seminary is just icing on the cake. While pursuing his master of divinity degree at Asbury Seminary, Rocky also works for diversity and community on the Seminary campus.
"God's turning me into a Swiss Army Knife," Rocky said. "I'm trying to learn as much as I can and become an expert in as many areas as I can to do whatever God calls me to do."
During Rocky's time at the University of Mississippi, his mentor, Wesley Foundation Director, and Asbury Seminary alum Eddie Willis, encouraged him to develop and use his talents for Jesus. Reading the Bible didn't become just a daily to-do. For Rocky, it defined holy living.
While serving at the Wesley Foundation, Rocky learned to flex his spiritual muscles as he developed as a Christian leader. While learning and serving, he experienced his call to ministry. His call wasn't to a specific ministry, but to build friendships between people from different backgrounds.
"I'm passionate about racial reconciliation and want to be a bridge builder between people who don't look like each other," Rocky said.
Although times have changed since the National Guard escorted James Meredith, the first African-American student to enroll at Ole Miss, onto the campus, racial tensions still exist. Rocky seeks to resolve these differences by finding common ground.
While in college, Rocky served at the Ole Miss Wesley Foundation and was actively involved in a local white church that had a sister black church. Previously, the churches had been sisters in name only. However, that all changed when the new senior pastor of the local black church met with leaders from the local white church. Together, the two churches learned from each other, developing the best practices for good stewardship in order to be financially responsible. Rocky saw firsthand what happens when two cultural contexts work together.
"I've talked with churches who are 97 percent white," Rocky said. "They realize who they are and where they are, but they are looking to reflect their community better. They want to bring someone on who does not look like everyone else."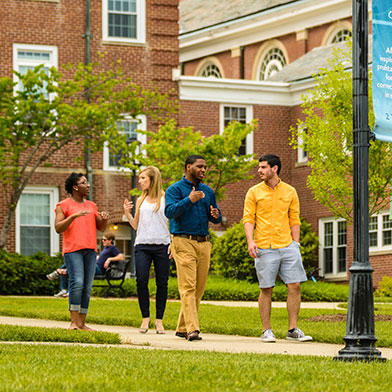 Even while studying at Asbury Seminary, he bridges the gap between society's marginalized and elite. The Seminary officially celebrated black history month for the first time this year. Rocky sat on a panel to facilitate a conversation about race issues, ingrained prejudices and ways to tear down those walls.
"We prayed so hard before that event," Rocky said. "We wanted the conversation to be different this time. All the things we prayed about happened. We expected 40 people, but we had 120 attendees."
Rocky views that evening's discussion as a win for God, as the community saw past their differences and acknowledged each other's presence. However, Rocky doesn't want that event to be a one-night stand with reconciliation.
Whether preaching every Sunday, leading a youth group, or working in a campus ministry, Rocky seeks to couple service with learning. He is pursuing a master of divinity degree from Asbury Seminary. Prior to moving to the Kentucky campus, he completed several courses online.
"I needed a program where I could get a theological education, but still remain deeply entrenched in ministry," Rocky said. "By combining online learning with on-campus intensives, I learned within a global context and made life-long ministry partners and friends."
Rocky expects to graduate in the spring of 2018.
---
Prepare for the Call
Learn more about how Asbury Seminary can help prepare you for your call. Fill out the form below to get started!
Loading...