Last updated: May 15, 2023
As a child growing up in Nigeria, Samuel Odubena suffered from severe and unexplained hand and arm pain for seven years. Finally the doctors decided amputation was the best way to prevent serious complications. On amputation day, the doctor couldn't get the necessary signature to proceed because the prescribing doctor was sick with a headache.
"God saved me, because who else could have prevented a doctor from coming to work?" Samuel said.
Three years later, at a Scripture Union camp for students, the speaker gave an altar call for anyone needing healing. Samuel went forward, and a woman prayed for him, saying, "By the stripes of Jesus, you are healed." Miraculously, his hand was healed.
"I experienced the reality of God's love while I was still a sinner, " Samuel said. "This is why I believe that grace is amazing because it is not a respecter of age, ethnicity, religious, economic or cultural status."
At that time, Samuel didn't know he was called to be a pastor, but in 1989, he accepted Christ. In 1992, God called Samuel to be a priest in the Anglican Church, but Samuel wanted to study law.
"God told me that he had called me to be a lawyer for his people in a spiritual way through intercession, prayer and preaching the word," Samuel said.
Samuel was ordered deacon in 1996 and rose through the ranks of priest, canon, and venerable archdeacon. He was a key figure in the outbreak of revival in Akure diocese and Ondo ecclesiastical province. Later, he was appointed vicar of St. Andrews Anglican Church, Akure, and simultaneously appointed to serve as chaplain for the Ondo State Chapel of Grace Government House Grounds.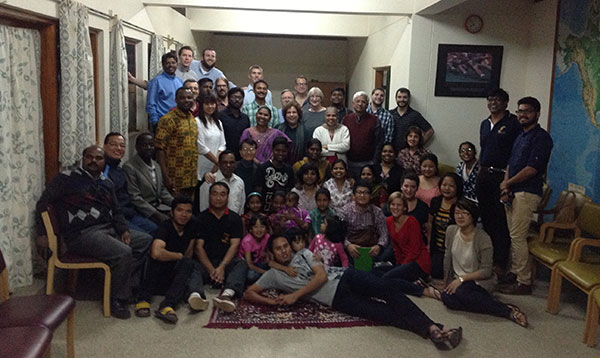 "I prayed to God when I was asked to pastor the governor, the family and the political leaders of the state," Samuel said. "God spoke to me from his word that he was sending me there to represent him. I went there with the conviction that I was going to influence the lives of the people for God."
Not only did he provide pastoral care to two successive governors and their families, but he also became their ears to the public. One day as he was leaving the vicarage, two women approached him. They shared that the county chairman had embezzled money from the teacher's salaries into his personal account. After verifying that the rumor was true, Samuel called the governor's wife. Two days later, the women returned to Samuel, thanking him for their salary.
"If I didn't make that call, perhaps thousands of county workers would have remained unpaid for two months," he said.
Samuel came to Asbury Seminary in 2014 to pursue a Ph.D. in Intercultural Studies with a specialization in evangelization. He graduated in 2020. In addition, he holds a Dip.Th from Immanuel College of Theology, a Dip.Rs from the University of Ibadan, a BA.Th and an M.A. in Biblical Studies from West Africa Theological Seminary, and a PGD in Religious Studies from the University of Ado-Ekiti. Samuel and his wife Christianah have three children, Toluwanimi, Tobiloba and Temiloluwa. He is now Senior Pastor of Main Street UMC in Peru, IN.
---
Prepare for the Call
Learn more about how Asbury Seminary can help prepare you for your call. Fill out the form below to get started!
Loading...