Tammy Cessna's heart beats for alumni. Since 2009, Tammy Cessna, Director of Alumni and Church Relations, has been pouring her life into the almost 11,000 Asbury Seminary alumni. She's recently started new programs, such as Asbury for Life and The Shepherd's Fund, to help alumni grow in community no matter their stage of life.
"I feel an affinity with other alums because I'm one of them," she said. "There's this unity and oneness that we have. It's like you've found a long lost family member because you have a common bond that unites you and a common belief that unites you even more."
Tammy and the Alumni Office recently launched Asbury for Life to journey through life and ministry with graduates by offering ways to connect for prayer, community, events and learning resources.
"Asbury Seminary is like your family," she said. "When you see someone with an Asbury Seminary shirt it's like finding a cousin. We want Asbury Seminary to continue to be part of your formation for life."
For Tammy, part of knowing Christ is taking classes, and she's currently taking prerequisite classes to join a Doctor of Ministry cohort.
"As a little girl, I asked why?" Tammy said. "I love knowing and love knowledge and understanding. When I read a book, even if it's the most boring book, I can always learn something."
Her love of learning helps her learn about the changes in society, be more creative in her job and solve problems in different ways.
ThriveU allows alumni to do the same thing. ThriveU houses a collection of some of Asbury Seminary's faculty teaching some of their favorite subjects. These free courses give alumni the opportunity to refresh their knowledge or take a class they didn't have time for while in Seminary.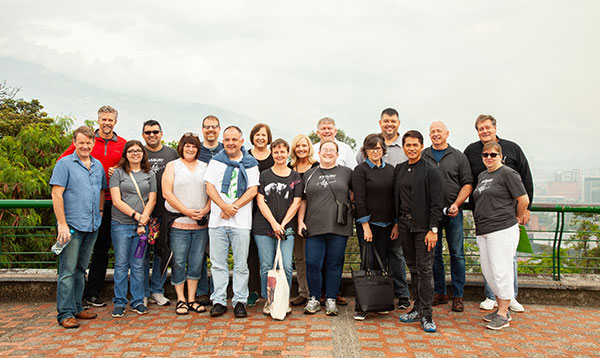 "Taking classes helped me discover myself, my strengths and my weaknesses," she said. "It has taught me to capitalize on my strengths and to rely on the body [of Christ] for my weaknesses, accepting how God made me."
For retired alumni, Asbury for Life offers the Shepherd's Fund that assists Asbury Seminary alumni and their spouses who have spent their lives in ministry, but have little or no savings for unexpected circumstances. The Shepherd's Fund can provide up to $10,000 per year and is renewable annually.
The first person to receive aid from the Shepherd's Fund was Phyllis Walrath, the 93-year-old wife of an Asbury Seminary graduate. She asked for an electric wheel chair to increase her mobility. She was approved for $10,000. With these funds, she was able to purchase an electric wheelchair, a portable wheelchair, a lift chair, hearing aids and new dentures.
"It has been a joy for us to share with [Phyllis] the rediscovery of the sounds that she had been missing, from singing birds and ticking clocks to the quiet little jokes that families love to share," Brenda Babich, Phyllis' daughter, said. "The hearing aids have greatly improved her ability to visit with friends and family and to conduct her own affairs as she likes. All the good health improvements that the generous funds made possible are very much appreciated. I can understand why people believe it's too good to be true!"
For more information about Asbury for Life, ThriveU or the Shepherd's Fund, visit asbury.to/asburyforlife.
---
Prepare for the Call
Learn more about how Asbury Seminary can help prepare you for your call. Fill out the form below to get started!
Loading...