Harrison puts his treasure in people that nobody else wants. He, his wife, and their partners, live in an impoverished state in Northern India, that is home to more than 100 million people. Together, they use business to meet the physical and spiritual needs of their neighbors through Ziyada, a textile business.
"As Americans what people place their treasure in is often money," Harrison said. "Whatever we're putting our time and money toward is what we have a heart for and where our treasure is."
As Harrison and his wife prayed for and gave to missions, the Lord broke their hearts for the unreached.
"I began to feel that we were praying and doing all these things, but maybe we should be willing to go," Harrison said.
They moved to India six years ago, working with another couple to create Ziyada to help free people from extreme poverty. Their hope was to provide employment in the Indian context that would give the employees marketable skills, dignity and a better quality of life.
Ziyada currently employees 20 women and one man.
"Ziyada exists to provide meaningful employment in a safe, loving environment for people caught in the devastating cycle of extreme poverty in North India, and in the process, to bring you more quality and beauty through each good we create," Harrison said on Ziyada's website.
In India, every woman is expected to learn to sew. Therefore, Ziyada teaches women the skills of sewing and spinning to allow them to earn a living, send their children to school, and care for their families. Even if they left Ziyada, these employees would have marketable skills to find another job.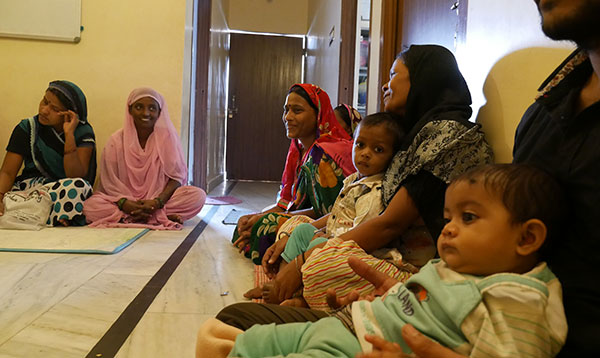 "We didn't want to ask people to do jobs that they didn't understand or that could be offensive or strange to them," Harrison said. "We tried to find things to allow them to find pride in what they did."
Ziyada, which means more, as in abundance, does more than provide economic stability. It also helps provide opportunities to teach women basic health education, such as hygiene, feminine care and basic first aid.
As a result, one of their artisans saved a child's life.
In a recent health seminar hosted by Ziyada, a couple of visiting doctors and Harrison's wife, who is also a nurse, did a session on the Heimlich maneuver. Two weeks later at the morning meeting, one woman shared how these skills saved her son's life.
Her youngest son found a coin, swallowed it and began choking. Not knowing what to do, her husband began tapping him on the head, as per the local belief. The mother realized there was no time to take him to the hospital and correctly administered the Heimlich, saving her son's life.
"Now a lot of these ladies are making salaries for the first time in their lives," Harrison said. "This helps send their kids to school, and they are able to provide better nutrition and care for their families."
Harrison is a currently pursuing a Master of Arts in Intercultural Studies from Asbury Seminary through the Seminary's online degree program.
"The classes provided an outlet for me to be in discussion and run ideas by people," Harrison said. "But also it has been a place where I've been able to read and engage in things that I wouldn't be doing in this stage in my life."
Harrison shares practical advice to those just beginning their ministries from his own experience.
What do you wish someone had told you before you started your ministry/career?
 Invest early and often in your marriage, family and teammates so that you can last the long haul. We sold all our belongings and moved to India without much preparation. We quickly realized that if we wanted to last for more than one or two years, we needed to invest in proper training and on-going resources. We have since been fortunate to go through very specific and intentional cross-cultural trainings, debriefs, counseling sessions, team coaching and retreats. So many cross-cultural workers return home early because of problems and difficulties surrounding their family, marriage and their teammates… So invest into these early and often so that you can last the long haul!
What advice would you give someone just starting out?
 Obedience trumps strategy!
---
Prepare for the Call
Learn more about how Asbury Seminary can help prepare you for your call. Fill out the form below to get started!
Loading...