Tommy Fussell serves those who are serving. As an active duty Air Force Chaplain on Francis E. Warren Air Force Base in Cheyenne, Wyo., Tommy builds relationships with Airmen and their families to provide support, resources and friendship during stressful daily situations, as well as deployments.
Tommy grew up in southeast Georgia in between two Army bases, so Army aircraft frequently flew low over his house. In fact, he learned to distinguish the type of helicopter and flight formation by their sound.
Ironically though, the military was not on his radar. Instead, after high school, he went to college and got involved with youth ministry. After seminary, he took a church in the South Georgia Conference of the UMC. His mentor, however, was an Air Force Reserve Chaplain whose love for his work was obvious. After much prayer and discernment, Tommy joined the reserves and later active duty.
"The thing I love most about it is the counseling," Tommy said. "That was one of my focuses in seminary, and I still use it in the military."
Although not your typical church with a steeple, the airbase is an industrial ministry setting. Just as a traditional pastor visits his or her parishioners, so Tommy builds relationships with those on base, from Airmen to Colonels to civilians.
To Tommy, it's a compassion thing.
"I hate seeing people struggle unnecessarily, but from a pastor's perspective, it's a good time to be in a relationship to help others," he said.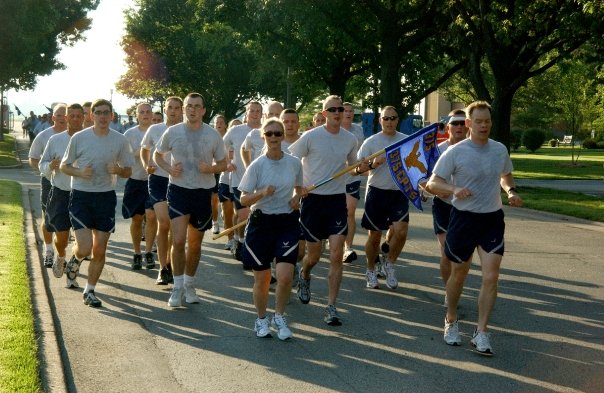 For example, if a young Airman is repairing a plane, but has his mind on his marriage or has personal issues, his lack of focus could cause mission failure. Tommy offers support, advice and prayer when needed. Although there can be stigma associated with seeking help, Tommy combats this by walking through life alongside those he serves.
"The Chaplains are one of the few officers that enlisted people like to see because we are usually offering them something, not yelling at them," Tommy said. "We build them up so they can be more efficient in what they do."
Life in the Air Force doesn't have a "typical day," but Tommy's duty day usually starts at 0730. He checks in with his supervisor for daily marching orders, but always depends on the promptings of the Holy Spirit to order his day.
"I think one of the coolest things is to be out riding around and feel an urge to go visit a particular unit," Tommy said. "When I arrive, I often hear, 'Hey Chaplain, you got a minute?'"
Tommy not only serves those in uniform, but their families as well. The base chapel offers a variety of spiritual programs. They also offer programs for families. They have a program called Waiting Warriors. It supports those with a deployed spouse. The program connects families and spouses with others going through a deployment.
The Francis E. Warren Air Force Base is a missile base, so Airmen are frequently deployed to the missile fields. The closest is a 35-minute drive, and the farthest is three hours. Deployments can last 24 hours to 5 days.
"It's like a mini-deployment, but you do it every 4 or 5 days with no contact with family and friends," Tommy said. "This messes with family dynamics."
Whether the deployment is short or long for the military member, problems always seem to arise during the absence. Tommy helps connect families with resources when the water heater breaks, the roof leaks or the car needs repair. These problems increase stress for the family at home, but also for the military member who can't do anything to help. Many times, all that is desired is a listening ear. He is ready to supply that support.
"I find myself looking for those God moments where I can help someone," Tommy said. "That's the part that makes it fun and feels like you're doing something worthwhile and meaningful and changing people's lives."
---
Prepare for the Call
Learn more about how Asbury Seminary can help prepare you for your call. Fill out the form below to get started!
Loading...